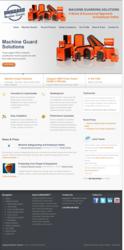 We have been extremely happy with the Uniguard Product and the support we receive.
Greensboro, NC (PRWEB) January 30, 2013
Uniguard Machine Guard machine guarding products has launched a new website to highlight all their safety products. The new machine guarding solutions website, located at uniguardmgc.com, features machine guards produced, recent machine guarding projects, safety compliance features, latest news, and Uniguard general information. The website, produced by web development firm, Najera Design + Marketing, is informative and includes testimonials from satisfied customers.
Uniguard takes great pride in manufacturing machine guards that exceed the expectations of both customers and the safety compliance governing bodies. The website highlights many options and features that are unique to Uniguard and set them apart from their competition. The recent project details included on the new website show the latest in belt guards and other machine guarding applications, proving that Uniguard is always improving and upgrading the guards that they offer. Insuring employee safety in order to optimize production are priorities at Uniguard.
Safety compliance is where Uniguard stands out, so it is a large part of the new website features. Areas of compliance with all concerned governing safety bodies are a true testament to the quality products Uniguard produces. OSHA, ASME, and ANSI regulations are met or exceeded, and customizable options make Uniguard the top provider of machine guarding solutions in the United States. Uniguard leads the competition for safety not only on site and in plant, but also in the field.
Optimization of a new website is allowing Uniguard to highlight the durability attributes of the guards and additionally show the economical features. Durable products that are guaranteed to last will be assured when purchasing from Uniguard. Protection of your machines and employees is also guaranteed; therefore, an investment in Uniguard products is the most economical way to provide a safe work environment. Customer testimonials on the website will reinforce the aforementioned statements.
About Uniguard Machine Guards: Founded in 1984 by Ken Brisk. Uniguard provides machine guards that are primarily used to enclose vertical and horizontal belt drives on industrial equipment. All guards are rustproof and not affected by ultraviolet rays, so they are weather resistant for outdoor applications. Non-metallic adjustable width machine and pump guards and covers are offered, along with clear polycarbonate guards for viewing moving parts. Machine guards are easily installed and customizable to any machine application. All Uniguard products are rated safety compliant with OSHA, ASME, and ANSI.