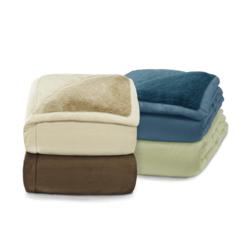 New York, NY (PRWEB) January 31, 2013
The secret to getting through a tough cold is to drink plenty of fluids, get lots of rest, and stay warm. With Cold and Flu season in full swing, Ellery Homestyles offers a lightweight blanket that travels easily from the couch to the bed.
The perfect alternative to heavy down comforters, ComfortTech™ is the only blanket that combines the coziest of microplush fabrics with superior 3M™ Thinsulate™ insulation. Enjoy the luxury of microfiber reversing to incredibly soft faux micromink, offering twice the warmth of other high-loft insulating materials, and holding twice as much heat as a traditional down blanket.
For more information on this product please visit Ellery Homestyles.