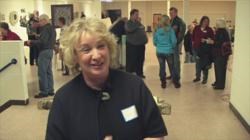 We want to cover the rural areas that are often overlooked; they have great stories to tell
Brandon, Minnesota (PRWEB) January 24, 2013
Lakes Country Living – a television show airing on several telecom cable networks across Minnesota and North Dakota – featured the Old School Arts Center (OSAC) in Sandstone, Minnesota, in its newest episode, just released this week. "The arts make community, and the community makes art" is the driving philosophy behind the establishment of the OSAC, celebrating its first anniversary this month.
Stephen Henning, the show's producer, is very sympathetic to that philosophy. Almost twenty years ago he helped found a non-profit community arts center in the rural area where he lives. He was a roster artist in the Minnesota Rural Arts Initiative at that time, and knew first-hand how the arts could bring people together. "The arts are especially important in rural areas, and today more than ever" Henning adds.
Since Lakes Country Living first aired in 2010, the half-hour program included story segments about arts and art-related organizations, particularly ones that were relatively close to home base in west central Minnesota. New York Mills Regional Cultural Center was profiled in one of the show's very first episodes. A full half hour program was dedicated to the folk art of fish decoy carving, culminating with coverage of the National Fish Decoy Association's Annual Show in Perham. Another episode featured the monthly open mic night at the Evansville Art Center. During the second season, Lakes Country Living widened its coverage to include stories of the Owatonna Art Center, Lake Region Writers' Network, and Green Island Sculpture Walk in Wadena.
Now in its third season, viewers can expect Lakes Country Living to cover stories on arts organizations across a wider area of rural Minnesota. Such as Prairie Renaissance Cultural Alliance in Morris, or Kaleidoscope Gallery in New London. "We want to cover the rural areas that are often overlooked; they have great stories to tell" says Henning. "The people can be especially inspiring, like the folks in the OSAC video. Or like the 89-year old fiddler in our story about Terrace Mill. I really hope these stories might encourage the arts to flourish in other communities, where the stories are seen. If the folks in Sandstone can have this much fun, there might be another small town out there that needs to start an arts center."
Lakes Country Living is a half-hour made-for-cable video magazine featuring stories of outstate Minnesota. Hosted by nationally acclaimed landscape painter Stephen Henning, the show's topics usually include the arts, agriculture, Main Street entrepreneurs, local history, natural resources and outdoor recreation. Particular attention is given to conveying local flavor. More information is available online at http://www.lakescountry.tv.