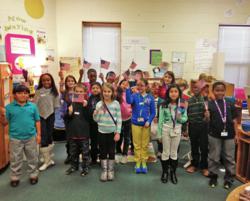 Charlotte, NC (PRWEB) January 23, 2013
On the heels of the Presidential Inauguration, students in Heather England's third-grade class at Smithfield Elementary School today celebrated their own election success. Winners of the "If We Were President" contest, sponsored by Pearson and WeAreTeachers, the students and their teacher received a grand-prize package that included a Classroom Inauguration Day Party, a $500 gift certificate from Pearson and an iPad 2.
The class earned the greatest number of votes from the public for its inspiring and catchy takeoff, "Vote Me Maybe." To develop the project, England had students form four committees, including wardrobe, technology, song writers, and props, and then they collaborated to practice and perform the song with choreographed moves. News of their creative project spread throughout Charlotte-Mecklenburg, with the class appearing on the local morning show, "Charlotte Today," to perform their original song.
Pearson Senior Vice President Lynda Cloud said,"Ms. England and her students created a project that was creative, insightful and, best of all, fun. The project exemplifies the ways that talented teachers can make learning relevant and vibrant for their students. I am sure that the thousands of people who watched their video online agree with me that they are most deserving of this honor."
All of the classes that submitted entries created their creative projects using free election resources, activity packs and interactive programs from Pearson's K-12 Teach the Election 2012 site and the Online Learning Exchange™ Election Series site.
About WeAreTeachers.com
WeAreTeachers provides a powerful online community for teachers, combining the expertise of our member community, the resources and knowledge base of our education company partners and the momentum of social media to recognize and reward innovative teaching ideas. Visit http://www.WeAreTeachers.com to be part of our community.
About Pearson
Pearson, the world's leading learning company, has as its mission to work side by side with states, districts, teachers, students and parents to ensure that every child is prepared for college and career (NYSE: PSO). For more information, go to http://www.pearsonschool.com.
For more information:
WeAreTeachers – Moira McArdle, mmcardle(at)dnb(dot)com – 203-225-4743
Pearson – Kate Miller, kate.miller(at)pearson(dot)com – 800-745-8489