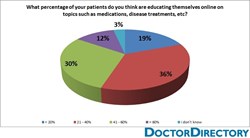 Asheville, NC (PRWEB) January 31, 2013
According to a Pew Internet study, 59% of U.S. adults look online for health information. But when physicians were asked, "What percentage of your patients do you think are educating themselves online on topics such as medications, disease treatments, etc.," many believe that number to be much lower.
More than 300 physicians responded to DoctorDirectory's survey on patient education and the Internet. Results (see figure below) showed that 19% of docs think that less than one in five of their patients look online for health information. 36% of them believe that probably three or four out of ten patients search online. Only 30% chose the correct range, between 40 – 60%.
Unfortunately, heavy patient loads and time constraints may be preventing practitioners from discussing what their patients are reading on the Internet – a practice that could lead to misinformation and less than optimal outcomes.
For more information about this survey or how DoctorDirectory can impact your brand, please visit ContactDD.com or call 828-255-0012 ext 105.
DoctorDirectory specializes in providing healthcare professionals the opportunity to participate in Market Research and other programs that help shape the healthcare industry. DoctorDirectory's exclusive IncreaseRx marketing solution provides pharmaceutical brand teams with access to virtually all U.S. prescribers and generates measurable and verifiable incremental revenues in a gainshare arrangement. Visit contactdd.com to learn more. Follow DoctorDirectory on Twitter @ContactDD.