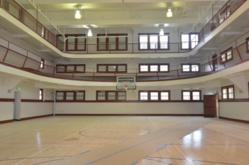 San Francisco, CA (PRWEB) January 24, 2013
RFJ Meiswinkel Company, a well-known Bay Area plaster and drywall construction contractor, has completed the rehabilitation of the YMCA building at 220 Golden Gate Avenue. Located in San Francisco's Tenderloin district, this historic building has undergone a massive reconstruction and restoration project.
Built in 1910, the nine-story YMCA building is marked as one of San Francisco's historic landmarks. The building originally included 105 hotel rooms, an auditorium, offices, a meeting area and it served the functions of the YMCA until 2009. The re-made building now features 174 living units, a new medical clinic, two shared kitchens, a refurbished gymnasium, and a rooftop terrace. When it opens, the building will provide new homes for the formerly homeless.
RFJ Meiswinkel was responsible for the restoration of the historical ornamental plaster elements in the main lobby, grand stair and auditorium. RFJ's work at the YMCA also included metal framing, drywall and taping for all of the building's new walls and ceilings. Expert at historical restoration and preservation, RFJ Meiswinkel has previously completed projects on countless other Bay Area historical buildings, including the Legion of Honor, the Olympic Club, the ACT Theater, the Cliff House and the Old Emporium dome at the San Francisco Centre. The restoration of the YMCA building was an extensive 16-month project that began in May 2011.
About the company
The Meiswinkels began its plastering tradition in the 1940's. The company known as RFJ Meiswinkel Company has truly elevated plaster work to the status of art. The award-winning work of RFJ Meiswinkel Company can be seen in many of the San Francisco Bay Area's most iconic buildings. RFJ specializes in exceptional wall and ceiling construction using metal framing, drywall, stucco, lath and Venetian plaster techniques for both commercial and residential applications. RFJ combines the jobs of estimator and project manager, offering their clients a single professional with expertise over the entire job. For more information visit their website at http://rfjmeiswinkel-sf.com.