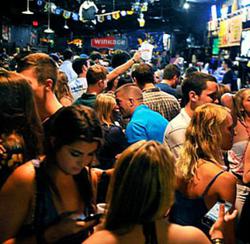 "Winkage is an app that takes a step towards the future of GPS based social interaction and is definitely worth a download."
Gainesville, Florida (PRWEB) January 24, 2013
Winkage is a new free social app that is being rolled-out on college campuses nationwide. It is the new social scene, where users check-in and interact with other checked-in personalities at same location. Having the "social vibe" of a venue literally at the users' fingertips, while providing better opportunities to meet new people, is what makes this location-based social networking app unique.
Winkage can be used anywhere people gather, whether it's a dorm, a bar, a lecture hall, a club, or even a stadium. Basically, after checking-in at a location, users can post chatter or photos to that specific location's Twitter-like shout out board. And, if they're looking to get a little more "social", users can send a Wink, or invite to chat privately, to any other user who may have caught their eye.
Initial reaction to the app had been great. The folks over at AppReview.com said the following about the app: "Winkage is a beautiful app, with a lot of potential as being a very large social networking/mobile networking and dating application." They added that, "Winkage is an app that takes a step towards the future of GPS based social interaction and is definitely worth a download."
Everyday users are growing equally as enthusiastic about the app. As one iTunes user review stated, "This app has so many cool features. I can see using this all the time on campus. It takes all the guesswork out of where the fun things are happening. Check it out!"
Spontaneity rules on Winkage. All posts, photos, Winks, and chats are cleared daily, so users can feel less inhibited when using this app. Shouting out, flirting, meeting new people, and having fun without fallout is what Winkage, and college life, is all about.
Learn more about Winkage at http://www.winkage.com, or download for free from The App Store or Google Play Store. For more information contact Winkage at winkme(at)winkage(dot)com or call 877-WINKAGE (946-5243)
Winkage and the Winkage logo are trademarks of Winkage Inc.