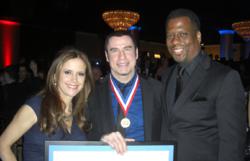 It's amazing being in an audience of CEO's and PIONEERS of the aviation industry.
Hollywood, California (PRWEB) January 23, 2013
Bernard Bonner, CEO of Business Development International attended The 10th Annual "Living Legends of Aviation"® Awards. The awards were held January 18, 2013, at the Beverly Hilton, and the event is produced by the Kiddie Hawk Air Academy, a non-profit 501(c)(3) organization.
The 10th annual awards was hosted by world renown actor and aviator John Travolta. The event was a celebration of a decade of recognition during aviation's second hundred years. The organization meet annually to honor individuals that make significant contributions in aviation.
"It's amazing being in an audience of CEO's and pioneers of the aviation industry. These men are fully responsible for the welfare, care and future of aviation travel for all people on earth." States Bernard Bonner. "To be here and see the new technologies being created, and to hear about the risk individuals had to take just to further aviation as a whole has been amazing. The very best in the world are here and it's and honor to being among them."
The "Living Legends of Aviation" are innovators, industry leaders, pilots and astronauts who are celebrities who have become pilots and vice versa.
"I really wanted to attend this event because, I'm very interested in becoming an aviator. I'm on an airplane 15 to 20 days a month traveling around the world to do business. I figured it was in my best interest to network with the leaders of Aviation and really understand what they need and want so my company BDI can help assist them in creating a very bright future." States Bernard Bonner.
About Business Development International
BDI is a group of highly trained and diverse set of executives, consultants and staff with one purpose: To empower the world's small to medium-size business owners and their employees with the "know-how" using tools, training, procedures and motivation proven to provide growth and prosperity. BDI works with clients across a number of industries. Our expertise cuts across these industries to understand the major issues that each industry faces. We use our 1-3 day analysis to quickly identify your companies specific issues and then help you address these problem areas. With our immediate hands-on expertise we help you make the shifts necessary to thrive and grow.
About Bernard Bonner
Bernard Bonner is CEO of BDI and with 25 years of experience in the fields of executive and management consulting in the construction, retail, manufacturing and transportation industries, Bernard is considered an expert in the field.Mr. Bonner attended Texas Southern University in Houston, Texas and studied Marketing. After college, he played on the professional tennis circuit and was sponsored by Evander Holyfield, the former heavyweight champion of the world. After playing tennis for several years, in 1997, Mr. Bonner joined a company called International Profit Associates and went on to become a "Top" business analysis within the company. He was responsible for conducting a comprehensive and objective 3rd party analysis which identified all companies strengths and weaknesses and what could be done to improve them. In November of 2003, Mr. Bonner left IPA and began to work with different businesses as a consultant so he could learn exactly how to implement the theory he'd learned as an Analyst and apply it to everyday businesses to produce results. In September of 2007 after 4 years and 7000 hours of practical application and getting many businesses to function at a very high level, he opened Business Development International Inc so he can help businesses, executives and celebrities worldwide. Mr. Bonner is known as the "Business Consultant to the Stars".