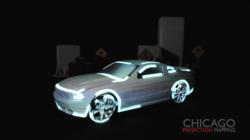 Seeing is believing for our product, and we're bringing the excitement of a real mapping display to our clients.
Chicago, IL (PRWEB) January 24, 2013
Chicago Projection Mapping (CPM), a Chicagoland-based content and 3D projection company, has announced the availability of custom demonstrations for prospective clients. Available either by recorded video or in-office presentation, Chicago Projection Mapping crafts real-world samples of mapping presentations - a prospect that has historically required tens of thousands of dollars in production costs. By overcoming one of the greatest challenges of the projection mapping industry, CPM has opened new doors for interested corporations, businesses, or organizations that are intrigued by the potential of this emerging medium.
Starting with an all-new video of car mapping highlights produced for an international automotive group, Chicago Projection Mapping is pioneering new avenues within the 3D projection industry. Thanks to a proprietary workflow and their in-house mapping team, CPM is able to produce custom content at a fraction of the time and labor required by "conventional" mapping companies. Chicago Projection Mapping is currently the only mapping provider in the midwest who publicly offers custom demos for clients.
"Seeing is believing for our product, and we're bringing the excitement of a real mapping display to our clients." said Matthew Nix, head of creative development for Chicago Projection Mapping. "It's hard to imagine turning your building into a moving diorama, or bringing a stationary car to life, but we've created a solution that helps convey the power and impact of our full displays quite effectively."
These new announcements come after a string of recent successes for Chicago Projection Mapping. The company, in conjunction with Absolute Vision Media, will provide a marquee mapping display for IIT Chicago-Kent College of Law's 125th anniversary gala, held February 23rd at Chicago's Union Station. The one-night-only event will culminate in a projection mapping show created by CPM, incorporating the rich history of the Chicago-Kent institution with cutting-edge animation and mapping techniques.
With faster turnaround and improved flexibility, Chicago Projection Mapping reinforces their wide variety of services available to clients, including standard projection mapping, 3D building and architectural mapping, car mapping, temporary and permanent installations, special events, and trade shows. For inquiries or a free quote, please email info(at)ChicagoProjectionMapping(dot)com.
About Chicago Projection Mapping:
Based in Chicago, IL, Chicago Projection Mapping is a full service content creation and 3D projection mapping company, serving the corporate, event, meeting, and convention sectors. For more information, please visit http://www.ChicagoProjectionMapping.com, or call 630-620-0000.