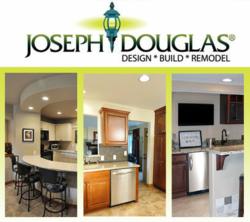 To all of our customers, subcontractors and supporters, thanks again for your support for the Readers' Choice Award
(PRWEB) January 24, 2013
Milwaukee home builder, Joseph Douglas Homes and Remodeling, won the Reader's Choice Award during the Wisconsin Remodeler of the Year Awards on January 18th.
The winner of this prestigious award is decided by online voting and, with the overwhelming support of customers and subcontractors, Joseph Douglas Homes and Remodeling not only claimed the Reader's Choice Award but also three awards for all three renovations submitted.
Joseph Douglas' first Gold Award under the category Lower Level Under $50,000 was awarded for their Flood Basement remodel submission which included a new recreation room, bar area, three-piece bath and exercise area. Another Gold Award under the same category was also awarded for Joseph Douglas' Kerber Basement which included a music room, bathroom, children's playroom, rec room and full kitchen that matched the rest of the home and stayed within a strict budget.
Under the category Residential Kitchen $20,001-$40,000, Joseph Douglas earned a Silver Award for their kitchen design on the Hensersky Kitchen.
"To all of our customers, subcontractors and supporters, thanks again for your support for the Readers' Choice Award and for all of your business, service and support over the years," says Deron Butler, founder of Joseph Douglas Homes and Remodeling.
For more information on Joseph Douglas Homes and Remodeling, please contact (262) 783-4700 or visit them at http://www.josephdouglashomes.com.
About Joseph Douglas Homes and Remodeling
Founded in 1998 by Deron Butler, Joseph Douglas Homes is a single-family home builder based in Menomonee Falls that has over 500 happy customers throughout southeastern Wisconsin. As principle architect, Deron Butler works directly with each customer tailoring an existing model or creating a one-of-a-kind custom home. Joseph Douglas Homes and Remodeling is an active member of both the Metropolitan Builders Association and National Association of Remodeling Industry. The company proudly boasts an A+ rating with the Better Business Bureau and an A rating for Angie's list. The company's unparalleled dedication to its customers as well as the communities it serves has not gone unnoticed. In fact, Joseph Douglas Homes has been honored with numerous awards including national recognition in homeowner satisfaction by "Professional Builder Magazine" and NRS Corp., Top Ten Small Business of the Year by Waukesha County Chamber of Commerce, Future 50 Award by MMAC, Beyond the Paycheck by "The Business Journal" and Top 50 Builders to Work For by "Professional Builder Magazine".