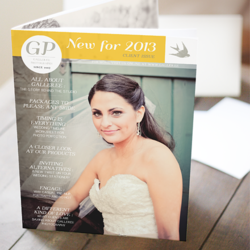 Galler.ee offers professional photographers unlimited access to hundreds of fully customizable stationery pieces and business tools for $20 per month - a price low enough to cause a disruption in the notoriously inflated industry.
(PRWEB) January 24, 2013
Online startup Galler.ee Inc. announced the launch of their new website last month, featuring some of the photography industry's most visually stunning and content-rich graphic design templates. The site offers professional photographers unlimited access to hundreds of customizable stationery pieces, business tools, as well as unique written content in their templates, all for $20 per month—a hallmark low-price amidst a notoriously inflated industry.
At the head of Galler.ee is the international award-winning designer Rebecca Shostak, 27, and a tiny team of creative talent. Their vast experience in the design-for-photographers market has led Galler.ee into the photographic industry spotlight. "I wanted to do something groundbreaking," said Shostak, "I created a business whose product was so quality and whose price was so low photographers would have to think twice before believing their eyes. It worked."
Shostak attributes her company's success to a strong customer service experience. "I heard Galler.ee's customer service is legendary, and it's true!" agreed Photographer Beverly Bestpitch. Industry mogul Mark Lutz (of Digital Wedding Forum) confirms, "One thing is for sure. When you buy a Galler.ee template you're buying professional quality backed by some of the best customer service in the entire photo industry."
Galler.ee's fresh approach to design has not gone unnoticed in the photographic community. "We're seeing a lot of competitors coming out with strikingly similar products to our own," says Shostak, "but the quality isn't there and the price is much higher. We were the first to offer marketing magazine templates with fully written articles for photographers to customize and present to their clients. Now everyone's trying to do it. We also come out with new products every single week and our competitors can't keep up in terms of new content or pricing. Photographers just starting out don't have a lot of capital to work with, and we're very sensitive to that. We give them the best bang for their buck."
Galler.ee customers, such as Photographer Cynthia Olkie, agree. "After discovering Galler.ee...I knew I had found a treasure. I have seen many others make templates...but not the way Galler.ee does it. They are beautiful, timeless and classic; and to top it off the service is outstanding. They will be seeing more of me."
Shostak has big plans for her small team in 2013. "We're going to keep raising the bar in terms of quality and quantity this year. Some of our clients consider us their 'best-kept secret'; that won't last for long!"