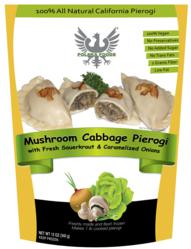 We are fortunate to sell tasty pierogi that is not only made locally, but that uses local ingredients in all their products.
San Francisco, CA (PRWEB) January 24, 2013
Rainbow Grocery Cooperative, a local San Francisco grocery store dedicated to natural vegetarian health food, will begin selling local, organic pierogi made by Polska Foods® this Friday. Rainbow Grocery is dedicated to providing affordable vegetarian food products that have minimal negative impact ecologically and socially. Their focus is also about offering produce and products from local, organic farmers and local businesses whenever possible. Offering Polska Foods' pierogi is a perfect fit that supports Rainbow's corporate mission and organic product offerings.
"We are thrilled to have the opportunity to offer tasty, local, organic pierogi for our customers," said Fredi D'Aguilar, the frozen buyer at Rainbow Grocery. "We are fortunate to sell Polska Foods' tasty pierogi that is not only made locally, but that uses local ingredients in all of their products."
Polska Foods took a year of research to test each and every ingredient for their products. They found a local, family-owned artisan cheese company that still makes hand-crafted farmer's cheese out of Berkeley. They also get all organic grain and flour from one of the only mills left in the San Francisco Bay Area. Lastly, Polska Foods interviewed each local farmer when selecting their vegetables and is proud to support the local food industry with their products.
"Making authentic, healthy pierogi was a main priority for us when we started Polska Foods," said Tomasz Piszczek, founder and VP of Operations. "Using local, organic, high quality ingredients not only makes the product taste better and have a higher nutrient value, but it reduces the product's carbon footprint. We are happy to offer a superior product that supports the small, local farmers who focus on organic, non-GMO vegetables and grains."
The company currently sells four pierogi flavors: Potato & Farmer's Cheese pierogi made with organic whole wheat or white dough, Mushroom & Cabbage pierogi with sauerkraut and caraway seeds, and Spinach & Feta pierogi in an organic whole wheat dough. Each product took a year of research to find the local, organic farmers they could trust and then to test the recipe with each final ingredient. Keeping to the homemade recipes from Tomek's grandmother in Poland, they found artisan farmer's cheese for their potato cheese pierogi and real sauerkraut without added vinegar for their cabbage pierogi. The only change to the original recipes were a few seasoning and spices to provide that true "California Fusion" flavor that makes California restaurants some of the best in the world.
For more information, visit Polska Food's website. Read a touching personal story about how their business was started and a list of the fine retailers where Polska Foods' Pierogies are sold at http://www.polskafoods.com.