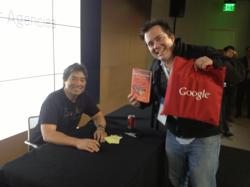 Kawasaki really delivers it! It was so refreshing to be reminded it's okay to be humble in business and still be successful.
Los Angeles, CA (PRWEB) January 23, 2013
The former chief Apple evangelist turned Android loyalist, Guy Kawasaki spoke to a few dozen Google Adwords Management Agencies about his book, Enchantment at Google's Partner Plex in Mountain View, CA, last week. The event was put on by Google Engage for Agencies to help Adwords management companies build better relationships with their new clients.
Many agencies attended the event to hear Kawasaki speak, including Los Angeles based company Keyword Search Pros. President of KSP Peter Dulay commented on Kawasaki's presentation-
"Kawasaki really delivers it! It was so refreshing to be reminded it's okay to be humble in business and still be successful."
Enchantment (2011) is not actually Kawasaki's newest book, though he did base his presentation on it. His newer release, APE: How to Publish a Book is already for sale on Amazon Kindle and can be pre-ordered through Guy Kawasaki's website.
In the post-session Q&A, most people asked social media questions of Guy. Google+ is trying to gain the hearts and minds of millions, and since Kawasaki has switched over to using Google Android, he is all in with Google. This "all in" includes where he spends his time posting social media comments, and while wearing a Google+ t-shirt, Guy gladly entertained the questions about his own social media best practices with some self-disclaimed long-winded answers.
Guy Kawasaki currently posts 5-20 times a day on his Google+ page. In one of his lecture answers, Guy advises that people and brands use social media mainly to curate good content and originate new ideas rather than push sales messages the majority of the time. While many of his posts are not self-promoting, he does slip in the occasional blurb about his new book.
Google+ broke records for fastest growth in activation numbers but has been slow to grow its engagement since its launch on June 28th, 2011. Peter Dulay has been taking notice of the slow and gradual migration from other social media communities like Facebook. Recently, Facebook started including sponsored posts directly into its users' newsfeeds. Disgusted by the intrusion, Dulay said he would join Guy Kawasaki on Google+ and went on to post the following on Facebook-
"Why is there a sponsored post in my FB news feed!? Everyone, I'm going to Google+ for a week!!"
The response? A clever retort from friend Sarah Segal- "Have fun on your walkabout; that place is a desert."
Some see Google+ as a desert, but are there signs of more life coming its way? Is the fact that Guy Kawasaki, who has always been associated with technology and innovation, using Google+ a sign that Google+ is the slow and steady wave of the future?
Dulay thinks so, saying, "It makes perfect sense that people would use Google+ in the future considering how married it is with email and search."
Keyword Search Pros is a search engine marketing firm that specializes in Google Adwords management. It is the duty of the company to stay updated on technology trends involving search engines and social media.
Guy Kawasaki may know a thing or two about social media, but he also knows much about "enchanting" people. During the lecture, Kawasaki told a story about how Virgin founder Sir Richard Branson enchanted him in a preparation room at a conference in Moscow. He described how Branson interrogated about why he wasn't flying on Virgin Airways and how he couldn't defend himself against Sir Richard's enchantment.
Guy explains, "Sir Richard Branson had got down on one knee and started shining my shoes with his own jacket until I promised I would fly with Virgin." Kawasaki admitted, "I have flown on Virgin ever since."
Guy Kawasaki's lecture was appreciated by all the agencies including Keyword Search Pros. Peter Dulay brags that he is a 10-year customer of Virgin but promises to spend more time using Google+ and reading Guy Kawasaki's Enchantment.