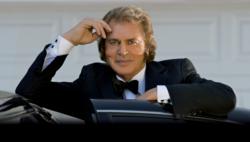 Modesto, CA (PRWEB) January 24, 2013
His name, adopted as a publicity ploy, comes from the 1911 century Austrian composer who wrote "Hansel & Gretel." His voice has made him a mainstay in the international pop music industry for more than 40 years.
Engelbert Humperdinck will take the stage at the Gallo Center for the Arts on Thursday, February 19 at 7:30 pm. Tickets are $49, $59, $79 and $99, and can be purchased online at GalloArts.org, by calling (209) 338-2100, or at the Center's ticket office, 1000 I Street in downtown Modesto.
Born Arnold George Dorsey in Leicester, England, Humperdinck has specialized in lushly orchestrated romantic ballads. Among his best remembered hits are "Quando, Quando, Quando," "Release Me," "The Last Waltz," "After the Lovin'" and "A Man without Love."
His voice and many hits have won him millions of fans around the world, but new generations have discovered him thanks to the platinum-selling theme song for the most recent Beavis and Butthead movie.
During the height of his fame in the late 60s, 70s and 80s, such future music stars as Jimi Hendrix and the Carpenters were opening acts for Humperdinck. He also is remembered as one of few artists able to displace The Beatles at the top of the record charts.
Boyett Petroleum is the Gallo Center's 2012-2013 Premier Partner.