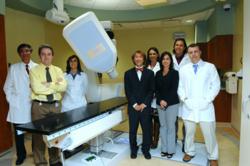 "CyberKnife offers prostate cancer patients a noninvasive treatment option that requires no anesthesia," said Dr. El-Ghamry.
LOUISVILLE, Ky. (PRWEB) January 24, 2013
According to the American Cancer Society, prostate cancer will account for an estimated 13 percent of total cancer diagnoses in Kentucky this year.
Men in central Kentucky and southern Indiana facing a prostate cancer diagnosis and seeking treatment can now add a new option to the list — CyberKnife®. In the fall of 2012, the James Graham Brown Cancer Center launched Louisville CyberKnife, the first and only CyberKnife program in the Kentuckiana region and the second statewide. The center recently completed CyberKnife treatments for its first group of prostate cancer patients.
For patients like Willis Robinson, the launch of Louisville CyberKnife came at an important time. He had been diagnosed with prostate cancer just weeks before during a routine check-up.
"I was scheduled for radiation therapy, and the day before my treatment, my sister called me about an interview she'd seen on TV covering Louisville CyberKnife," Robinson said. "I called the James Graham Brown Cancer Center immediately and explained my case, and they said they could help me."
Louisville CyberKnife treats patients with a procedure called stereotactic body radiation therapy. CyberKnife is a robotic technology that delivers a unique form of stereotactic body radiation therapy. When treating prostate cancer, the CyberKnife tracks the motion of the prostate during treatment and automatically corrects the aim of the radiation beam when movement is detected. This means radiation is delivered to the targeted tumor location with pinpoint precision, and radiation exposure to surrounding healthy tissue is minimized.
"I was told I could choose between surgery, radiation or both. I was a little scared of traditional radiation therapy knowing I had to go through so many treatments. When I heard that I could have only five treatments with CyberKnife versus 40, it was a no brainer for me," Robinson said.
Louisville CyberKnife radiation oncologist, Dr. Moataz El-Ghamry says many men choose CyberKnife for the same reasons Robinson did.
"CyberKnife offers prostate cancer patients a noninvasive treatment option that requires no anesthesia," said Dr. El-Ghamry. "Patients have the benefit of returning to their normal routines following treatment and experience few to no side effects."
Recent results from a five-year clinical study showed men with organ-confined prostate cancer can be treated successfully with stereotactic body radiation therapy. The multi-center study evaluated low-risk, intermediate-risk and high-risk patients for up to four years following treatment. At the five-year mark, the relapse-free survival rate was 95 percent for low-risk patients, 90 percent for intermediate-risk patients and 80 percent for high-risk patients. To learn more about results from this study, click here.
"I'm just glad I caught it on TV when I did," Robinson said. "Because I might still be in the middle of my radiation treatments if I hadn't."
In addition to treating prostate cancer, Louisville CyberKnife treats malignant and benign tumors in the brain, spine, lung, liver, pancreas, kidney and eye. CyberKnife may not be an appropriate treatment for all prostate cancer patients. Men are encouraged to consult with their doctor on the best course of treatment for their individual diagnosis.
Louisville CyberKnife at the Brown Cancer Center is located at 529 S. Jackson St., Louisville, Ky. 40202. For more information, call (502) 217-8200.