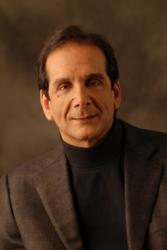 Claremont, Calif. (PRWEB) January 23, 2013
Scripps College presents an evening with Charles Krauthammer as part of the 7th Annual Elizabeth Hubert Malott Public Affairs Program. Krauthammer will comment on current events at 7:30 p.m. on Feb. 7 in Scripps College's Performing Arts Center, Garrison Theater. The event is free and open to the public.
Krauthammer is a winner of the Pulitzer Prize and was named by the Financial Times as the most influential commentator in America. MSNBC's Joe Scarborough calls him "the most powerful force in American conservatism." New York Times columnist David Brooks says that today "he's the most important conservative columnist."
Since 1985, Krauthammer has written a syndicated column for The Washington Post, for which he won the 1987 Pulitzer Prize for distinguished commentary. He is a contributing editor to The Weekly Standard and The New Republic; in 1984, for his New Republic writings, he received the National Magazine Award for Essays and Criticism, the highest award in magazine journalism. He serves as a weekly panelist on Inside Washington and appears nightly on Fox News' Special Report with Bret Baier.
Krauthammer was born in New York City and raised in Montreal. He was educated at McGill University (B.A. 1970), Oxford University (Commonwealth Scholar in Politics) and Harvard University (M.D. 1975).
A man of many talents and interests, Krauthammer was chief resident in psychiatry at Massachusetts General Hospital in the mid-1970s and published several scientific papers, including one about the discovery of a form of bipolar disease. From 2001 to 2006, he served on the President's Council on Bioethics. He is chairman of Pro Musica Hebraica, an organization dedicated to the recovery and performance of lost classical Jewish music. He is also a member of the Chess Journalists of America.
For more information about this event, contact the Office of Malott Commons at 909-607-9372.
The Elizabeth Hubert Malott Public Affairs Program, established by the Malott family in memory of Elizabeth Hubert Malott '53, makes manifest her belief that a range of opinions about the world — especially opinions with which we may not agree, or think we do not agree — leads to a better educational experience. Although the primary audience for this annual program is the Scripps College student body, all members of the Claremont community and the general public are welcome.
Scripps College was founded in 1926 by Ellen Browning Scripps, a pioneering philanthropist and influential figure in the worlds of education, publishing, and women's rights. Today, Scripps is a nationally top-ranked liberal arts college and women's college with approximately 950 students, and is a member of The Claremont Colleges in Southern California. The mission of Scripps College is to educate women to develop their intellects and talents through active participation in a community of scholars, so that as graduates they may contribute to society through public and private lives of leadership, service, integrity, and creativity.