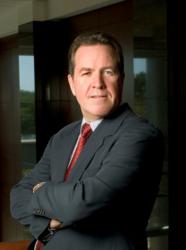 Jack Finn is a 'go to' person in the tolling industry whose knowledge and experience are prized by IBTTA members, policy makers and the media.
KANSAS CITY, Mo. (PRWEB) January 24, 2013
Jack Finn, PE, HNTB chair toll services, was named Honorary Member of the International Bridge, Tunnel and Turnpike Association by unanimous vote at the association's January board meeting.
In the 81-year history of IBTTA, the worldwide association for the owners and operators of toll facilities and businesses that serve tolling, only 23 non-presidents have earned this designation. It is the highest honor that IBTTA can bestow on any individual for "outstanding contribution in the furtherance of the purpose and objectives of the association." Finn will receive formal recognition for this honor during IBTTA's annual meeting this September in Vancouver.
"Jack Finn is one of the most ardent supporters of IBTTA and a leader in our association, having served as chair of the IBTTA Foundation and in numerous other leadership positions. He is a 'go to' person in the tolling industry whose knowledge and experience are prized by IBTTA members, policy makers and the media," said Patrick Jones, IBTTA executive director and CEO. "The intellectual rigor that Jack brings to discussions about the role of tolling in America's surface transportation infrastructure has raised the profile and reputation of our industry and everyone in it."
As senior vice president and HNTB Fellow, Finn leads HNTB's national toll services group. He has worked with dozens of turnpike and toll authorities across the country since joining the firm in 1978. Finn's experience and leadership have helped HNTB grow to become the nation's No. 1 consultant to toll authorities, currently serving as the general engineering consultant to 24 toll agencies in the U.S., more than any other firm. With a national breadth of tolling experience and resources, Finn directs HNTB's comprehensive tolling services portfolio of more than 50 specialized services ranging from financial planning and analysis to operations and management from start-ups to emerging and mature programs.
During his 35-year career, Finn has earned recognition as one of the foremost tolling experts in the world and United States—offering testimony before Congress and speaking to both the Democratic and Republican governors associations.
Finn's insights regarding the growing toll industry are sought regularly by national mainstream and trade media. He has been a contributor to Engineering News-Record, USA Today, The Bond Buyer, Forbes, Traffic Technology International, Bloomberg television and many other news outlets.
HNTB has been a toll leader since 1945 when it became engineering consultant to the Maine Turnpike, the first of the modern turnpikes financed entirely with private funds. In 1949 HNTB became the general engineering consultant to the New Jersey Turnpike and continues its relationship with the NJTA today. As a young man, Finn visited worksites along the New Jersey Turnpike with his father, also an HNTB engineer.
HNTB Corporation is an employee-owned infrastructure firm serving public and private owners and contractors. With nearly a century of service, HNTB understands the life cycle of infrastructure and solves clients' most complex technical, financial and operational challenges. Professionals nationwide deliver a full range of infrastructure-related services, including award-winning planning, design, program delivery and construction management. For more information, visit http://www.hntb.com.