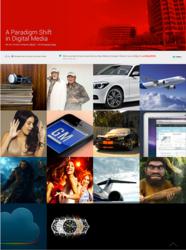 Xhibit's corporate website is a critical pivot point for our communications and the recent changes make it a more useful tool for the many clients and stakeholders that we serve - Chris Richarde, President & CEO, Xhibit Corp.
Tempe, Arizona (PRWEB) January 24, 2013
Xhibit Corp. (OTCQB: XBTC) ("the Company" or "Xhibit"), a leading provider of digital marketing and advertising solutions proudly announces the official launch of the Company's newly designed and expanded corporate website at http://www.xhibitcorp.com
"As we roll out our operations and launch new and exciting opportunities in digital media, we want Xhibit's website to showcase our work while explaining the many facets of Xhibit's business," says Xhibit President and CEO, Chris Richarde. "We also want to give our clients, investors, the media and the public a better understanding of our unique product offerings and how we create digital ecosystems and digital media designed to engage our client's audiences and maximize return on investment for our clients. Xhibit's corporate website is a critical pivot point for our communications and the recent changes make it a more useful tool for the many clients and stakeholders that we serve."
The new company website, which was designed and executed under the direction of the Company's new Chief Creative Officer, Mirco Pasqualini, is conceived as a constant source for reference information about the tools and properties that Xhibit has launched and/or has under development and a showcase for the ways that Xhibit is developing new technologies and strategies in order to deliver cutting edge solutions.
Features of the new site include a downloadable media section, a working demo of the Company's projects, news feeds and a section devoted completely to investors including financial information, news releases, and corporate materials.
"We're particularly proud of our new website," Mirco Pasqualini states, "since we can easily add-in our latest demo reels of video-based projects and provide new developments including our recently completed projects. We expect our corporate site to become our digital showcase and a useful workplace with a means to speak to those following our company."
For more information see http://www.xhibitcorp.com/properties and follow us on twitter @Xhibitcorp to stay up to date on site and product enhancements.
About Xhibit Corp.
Xhibit Corp is a cloud based marketing and technology development company focused on digital advertising, mobile and social media development, and CRM (customer relationship management) solutions. Xhibit offers a total solution for digital advertising and marketing that is integrated throughout its divisions and shares technology and resources across all of its services. Through its subsidiaries, Xhibit utilizes its branded products and services to provide digital marketing and advertising solutions for top tier advertisers and agency clients.
Contact,
Michael Schifsky, CFO
602-281-3554
mschifsky(at)xhibitcorp(dot)com
###
Cautionary Statement Regarding Forward-Looking Information
This press release may contain certain "forward-looking statements" relating to the business of Xhibit Corp. All statements, other than statements of historical fact included herein are "forward-looking statements" including statements regarding the advantages of Xhibit's products and services, market acceptance of those products and services, the business strategy, plans and objectives of Xhibit; and any other statements of non-historical information. These forward-looking statements are often identified by the use of forward-looking terminology such as "believes," "expects", "intended" or similar expressions, involve known and unknown risks and uncertainties. Although the Company believes that the expectations reflected in these forward-looking statements are reasonable, they do involve assumptions, risks and uncertainties, and these expectations may prove to be incorrect. Investors should not place undue reliance on these forward-looking statements, which speak only as of the date of this press release. The Company's actual results and ultimate corporate actions could differ materially from those anticipated in these forward-looking statements as a result of a variety of factors, including, the Company's ability to execute its business plans and maintain relationships with its customers, the demand for social media and viability of it for advertising, products and services developed by other companies that are competitive with this form of advertising, market share garnered by competitors, ability to maintain customer and vendor relationships, and those factors discussed in the Company's periodic reports that are filed with the Securities and Exchange Commission and available on its website (sec.gov), among other factors. All forward-looking statements attributable to the Company or persons acting on its behalf are expressly qualified in their entirety by these factors. Other than as required under the securities laws, the Company does not assume a duty to update these forward-looking statements.