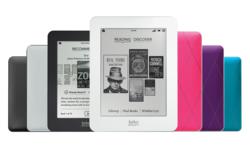 This Valentine's Day, we wanted to thank booklovers for showing us the love. Especially to all the parents out there who enjoy how easy the Mini is to hold and read for first-time readers.
Toronto, Ontario (PRWEB) January 24, 2013
Kobo, a global leader in eReading with more than 12-million users, today announced that the Kobo Mini eReader will be available for $59.99 from January 25th to February 14th. As an added bonus, consumers can customize the Kobo Mini with a complimentary, colourful Kobo SnapBack*. Choose from Ruby, Purple and Teal colours to match your style or mood.
Starting on January 25th, the Kobo Mini promotion will be available in the U.S. through select American Booksellers Association independent bookstores and Family Christian bookstores. In Canada, the promotion will be available at Indigo-Chapters, Future Shop, Best Buy, Staples, Walmart, The Source, and Toys"R"Us.
Special for Valentine's Day, the Kobo Mini promotion provides consumers with $20 off the regular price of the Kobo Mini, the world's smallest and lightest full-featured** E Ink eReader. Available online and in-store at Kobo retailers, the 5" Kobo Mini is perfect for people on-the-go, holding up to 1,000 eBooks and is loaded with all the amazing features Kobo customers have come to know and love. The compact Kobo Mini is perfect for small hands and to encourage children to start reading with an eReader.
"Kobo's customers have always been known for wearing their hearts on their sleeves, but it seems that people across North America have started carrying Kobo Minis in their pockets and purses as well," said Wayne White, EVP and GM, Devices, Kobo. "This Valentine's Day, we wanted to thank booklovers for showing us the love. Especially to all the parents out there who enjoy how easy the Mini is to hold and read for first-time readers."
The Kobo Mini received the seal of approval from Parent Tested Parent Approved™ (PTPA), North America's largest volunteer parent testing community with more than 60,000 parents. PTPA parent testers loved the Mini's Wi Fi capability, which allowed them to download books on the go, as well as the positive response children had to reading on the eReader.
"It's no surprise that the Kobo Mini is a family favourite," said Sharon Vinderine, CEO and founder of PTPA Media Inc. "Kobo makes it easy for parents to encourage their children to read with colourful devices, a great selection of eBooks, and my favourite – a battery that lasts a month!"
WHAT PTPA PARENT TESTERS HAD TO SAY ABOUT THE KOBO MINI
"I liked the fact that all 3 of my kids could use this Kobo Mini. I also like the durability of the Mini, even after several drops by my 3 year old son, the Kobo still worked!"
"The wifi made it so easy to find hot spots where I could download new books and connect and share on Facebook. Nothing quite like a little quiet time at Starbucks with a latte in hand and access to all the books in the world. It makes it hard for a Momma like me to not want to take advantage of 'me time'."
"The Kobo Mini is always thinking ahead and ready to suggest new great reads to you."
KOBO MINI FAST FACTS:
Incredibly portable and fully-functional, the Kobo Mini goes everywhere you do:

The 5" Kobo Mini is the smallest, lightest full-featured** eReader in the world
With Kobo Mini's glare-free E Ink touchscreen, it's just like reading print on paper—even in direct sunlight
The Kobo Mini is fully customizable and allows you to choose from 7 font styles and 24 font sizes, as well as exclusive weight and sharpness settings so you can adjust the text to suit your eyes
The Kobo Mini is sleek and stylish with the option of 3 interchangeable SnapBacks in a range of colours to suit anyone's reading style
Readers have direct access to the Kobo eBookstore from the Kobo Mini with a Wi Fi connection—and a storage capacity for up to 1,000 eBooks
Kobo SnapBack available at select retailers and while supplies last. Available SnapBack colours vary by retailer. Check your local store for availability.
**Full featured is defined as having a touchscreen display, Wi Fi connectivity and a suite of advanced reading features.
For more information, visit http://www.kobo.com/kobomini.
-30-
About Kobo Inc.
Founded in 2009, Kobo Inc. is one of the world's fastest-growing eReading services offering more than 3-million eBooks, magazines and newspapers. Believing that consumers should have the freedom to read any book on any device, Kobo has built an open-standards platform to provide consumers with a choice when reading. Kobo has expanded to 190 countries, where millions of consumers have access to localized eBook catalogues and award-winning eReaders, like the Kobo Touch. With top-ranked eReading applications for Apple, BlackBerry, Android, and Windows products, Kobo allows consumers to make eReading social through Facebook Timeline and Reading Life, an industry-first social experience that lets users earn awards for time spent reading and encourage others to join in. Headquartered in Toronto and owned by Tokyo-based Rakuten, Kobo eReaders can be found in major retail chains across the globe.
About PTPA Media Inc.
PTPA Media provides an objective framework for appraising and promoting new products designed to enrich family living. The company's mission is to marry innovative companies with discerning consumers, to improve consumer access to quality products and services for their families and homes. http://www.ptpamedia.com