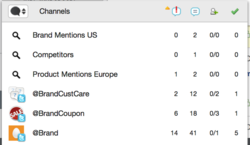 We believe proactively monitoring social media to find customer service opportunities is the missing link in a company's social customer service strategy

-Josh March, CEO of Conversocial
New York, NY (PRWEB) January 24, 2013
Conversocial, the market leader in social customer service, announced today the release of "Proactive Customer Service Channels", offering advanced Twitter search capabilities dedicated to delivering industry-leading customer service when customers discuss brands and companies on Twitter.
Proactive Customer Service Channels can leverage the Twitter fire hose, bringing social customer service agents' unparalleled access to actionable social data. Social customer service teams are now able to locate and proactively respond to all customer issues via Twitter irrespective of the Twitter handles, hashtags, and company names they tweet on.
According to a recent research note authored by Jenny Sussin, Senior Research Analyst at Gartner, "Regardless of how collaborative you are inside your organization, you must present your business as one cohesive unit. Customers with a complaint or comment are not interested in which business unit within your organization is in charge of maintaining the Twitter handle, Facebook page, or LinkedIn company page; they would like a response to their remarks" *
By seamlessly integrating into Conversocial's advanced workflow, companies can now advance their social media strategies beyond monitoring. This new facility allows companies to finally overcome the major challenges of proactively reaching out:
Expand the Reach of the Customer Service Team – Agents are able to easily identify and proactively respond to real customer service issues among vast social brand conversation, thanks to tight integration with Conversocial's dedicated social customer service workflow and reporting.
Get Direct to the Source – Managers can create smart proactive customer service channels to build segmented proactive customer service inboxes, saving agents valuable time from scouring through 1000s of irrelevant tweets. As a result, customers can slice and dice Twitter data keywords, location, language, and more.
Build a Seamless Operation with Invisible Strings – Managers can create distinct, custom search channels to direct customer service issues to the right team. And agents can respond from any corporate Twitter account to keep control of social conversations behind the scenes. Cross-functional teams can then organize internally without affecting the customer experience.
In the research Jenny Sussin continued, "Recognizing individuals on social media when they are not distinctly asking for it by complaining or broadcasting an opportunity for you is a way to bring your brand front and center in the eyes of the consumer, and differentiate yourself from your peers" *
Proactive Customer Service Channels allow companies to integrate service-focused proactive outreach seamlessly into all social media operations, ultimately providing improved customer satisfaction, brand protection against unaddressed negativity, and reduced agent hours.
"In the social media environment, where the volume of communication can become overwhelming, we provide companies with organized access to the conversations being held about their brand, and clear methods for responding and managing customer relations," said Joshua March, CEO of Conversocial. "Responding to direct questions and complaints is only part of the job, though; we believe proactively monitoring social media to find customer service opportunities is the missing link in a company's social customer service strategy."

Source: Gartner - Best Practices in Business Etiquette for Social CRM
Published: 17 September 2012
About Conversocial
Headquartered in New York and London, Conversocial continues to expand into the American market. Conversocial has processed more than 330 million customer service interactions on social media and is deployed in more than 20 countries. Companies and organizations such as Barclaycard, Charity USA, Groupon, Hertz, Net-A-Porter, Ogilvy, Sephora, Tesco, Waitrose, Tupperware, The University of Phoenix, and Vitalicious are using Conversocial's Software-as-a-Service to manage the flow of customer service enquiries and discussions on Facebook and Twitter.
For more information contact: Anna Drennan, Anna(at)Conversocial(dot)com or Michael Cecil, 212-362-1307, Michael (at)Thunder11(dot) com.