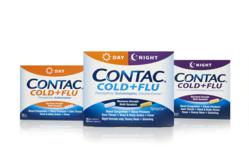 "The new Contac takes a great stride forward to instill confidence in the brand and help consumers feel better faster by getting the right product into their hands quickly."
White Plains, NY (PRWEB) January 24, 2013
Contac cold and flu medicine is hitting shelves with a new look for the New Year. The brand received a facelift focused on increasing shopability for the consumer and creating a stronger brand presence in a saturated category. Meda Consumer Healthcare engaged branding partner Little Big Brands to lead the redesign.
"Contac was confusing to shop and that's a real problem when your consumer is likely feeling under the weather to begin with," said Shanta McGahey, brand manager, Meda Consumer Healthcare. "The new Contac takes a great stride forward to instill confidence in the brand and help consumers feel better faster by getting the right product into their hands quickly."
The first step in the design process was assessing the line to determine what could be enhanced, and what needed an overhaul. The biggest challenge was color. The daytime non-drowsy product was dominated by dark purple, and the nighttime product a bright orange. Intuitively, it didn't make sense, nor did it follow category norms. The SKU colors were flipped and bold icons added to top of pack to clearly designate day/night.
The overall architecture and communication hierarchy was stripped down to drive home: brand, SKU and symptom relief, making it a quick read for the consumer, as well as forming a strong brand block and a solid base for the introduction of new products. The Instant Cooling Relief Liquid line extension was created to align with the base brand but carries the addition of frosty snowflakes to mimic its instant cooling sensation. The updated Contac logo is true to the original with a bit more action to cue healing.
"Sometimes the most successful redesigns have nothing to do with how much you change, and everything to do with simply changing small elements that aren't working," said John Nunziato, creative director, Little Big Brands. "This project is a great example of why our partnership with Meda has been so successful, because we have the same goals in mind for their brands – solve challenges for the consumer, and increase profitability for the company."
The new packaging is instore now at major drugstore and supermarkets, as well as local and regional retailers. Contac is available in Daytime relief, Nighttime relief, a Day/Night combo pack, and new Instant Cooling Relief Liquid.
Little Big Brands (LBB) specializes in strategic brand design – including brand strategy, consumer research, concept development, structural design, graphic design, and print production. LBB is also a leader in sustainable packaging. http://www.littlebigbrands.com