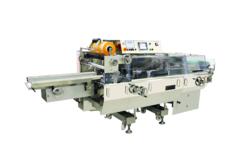 ROCKY MOUNT, N.C (PRWEB) January 24, 2013
Ossid, powered by Pro Mach, will showcase its newest lines of horizontal form-fill-seal machines, leak resistant tray stretch overwrappers, and weigh price labelers at the International Poultry Expo, January 29-31 in Atlanta – Ossid Booth #4015 Exhibit Hall B. The machines at the booth represent solutions introduced within the past year and are the most cost effective, versatile, and innovative products that the company offers.
The all new 500im intermittent motion stretch overwrapper will be introduced to the market at this show. This new machine is designed for red meat, pork, poultry, and produce packers that want a quality end-seal machine at an entry-level price. The new 500im features an open stainless steel frame, a variety of standard features, and a wrap rate of up to 40 trays per minute.
The new 500Si high-speed stretch overwrapper is making its first appearance at the Poultry Expo. The 500Si produces tightly wrapped, PVC case ready packaging at speeds of up to 120 trays per minute. An intuitive HMI ensures ease of operation and makes rapid, tool-free changeover between package sizes quick and easy. The open stainless steel frame and other construction aspects are compatible with the harsh environments of meat and produce packaging facilities. The 500Si has a relatively small footprint and is ideal for space-constrained environments.
The Integrity™ horizontal form-fill-seal machine delivers output rates of up to 15 cycles per minute. This machine can produce a variety of package types, including flexible, foil-foil, ambient, vacuum, modified atmosphere, and more. Designed for the most difficult wash-down environments, the Integrity is robust and modular in terms of giving packagers the opportunity to choose the features most needed for their operation.
The 1500 series weigh price labeler improves production with accurate and flexible label placement. The 1500 series is rated at up to 120 packages per minute (PPM). The unit is packed with both standard features and options. A host of data acquisition capabilities are available, for example the recently introduced Ossid Overall Equipment Effectiveness (OEE) tool.
"Ossid ensures high throughput and low downtime through the quality and capabilities of its solutions and its leading Pro Mach ProCustomer support services," said Ernie Newell, vice president and general manager, Ossid. "We are bringing the strongest lineup of products in the company's history to the Poultry Expo. We know that almost everyone who stops by is going to find an impressive array of solutions."
For more information, call the Ossid sales department at 1-800-334-8369 and visit http://www.ossid.com to learn more about the company's full line of high speed packaging equipment, including weigh-price labelers, overwrappers, horizontal form-fill-seal machines, and in-motion case-weight scales.
About Ossid
Ossid, a division of Pro Mach, is a leading North American designer and manufacturer of packaging equipment solutions for fresh and processed protein products, convenience foods, medical devices, and consumer goods. Ossid's principal product lines are weigh-price labelers, case-ready tray overwrappers, horizontal form-fill-seal machines, and in-motion case-weight scales. http://www.ossid.com
About Pro Mach
Pro Mach, Cincinnati, Ohio, is a leading provider of integrated packaging products and solutions for food, beverage, household goods, pharmaceutical, and other diverse consumer and industrial companies. Through three business units and related divisions, Pro Mach provides equipment, training, installation, and parts in primary packaging, end-of-line packaging, and identification and tracking. http://www.ProMachInc.com