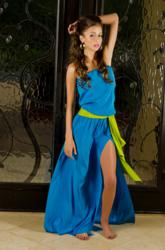 Dallas, Texas (PRWEB) January 24, 2013
DEMERARA by Cassie & Andrea Ganesh is extremely proud to announce the launch of its first collection with Spring/ Summer 2013. The label will be represented by The Scott Blair Group and make its first appearance to buyers during Dallas Market this week, January 24th- 27th.
DEMERARA by Cassie and Andrea Ganesh is a sophisticated flirty line that incorporates contemporary trends while exuding a traditional essence. The line, conceived by Dallas based designers, is an All-American label, manufactured in Dallas, Texas. Spring/Summer 2013 is comprised of a variety of ready-to-wear pieces such as blouses, dresses, rompers, skirts, and shorts; basically reaching both sides of the spectrum from day to evening wear, a majority of which is completely comprised of silk. There are plenty of vivid, tropical colors incorporated throughout the S/S collection, lots of hi-lows, slits, and color blocking. Retail price points range from $70 - $300, with the average price per piece around $175 for USA made, 100% silk garments.
The designers (sisters) Cassie & Andrea hope to establish a strong presence in the ready-to-wear market as a go-to label for women seeking contemporary, quality pieces at reasonable prices. Realizing that buyers today are reluctant to pick up new labels at higher price points, DCAG closes the gap in providing stores fine garments at a mid-price-point range with favorable margins. Consumers are sure to be charmed by DCAG's S/S 2013 collection with its bright hues and lady-figure flattering cuts.
DEMERARA by Cassie & Andrea Ganesh will be available in-stores at the end of April/ beginning of May 2013. The line will also be available for pre-orders before then at http://www.demerarausa.com in February.