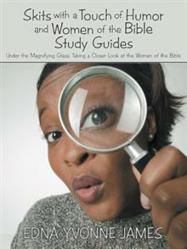 East St. Louis, Ill. (PRWEB) January 25, 2013
With her new fun-filled compilation, "Skits with a Touch of Humor and Women of the Bible Study Guides: Under the Magnifying Glass: Taking a Closer Look at the Women of the Bible" (published by CrossBooks), Edna Yvonne James allows readers to eavesdrop on conversations between the women of the Bible.
Using a good dose of humor, James has pulled back the curtain on several women of the Bible to point out spiritual truths that do not stray from biblical teachings. She shows how Eve may have dealt with everyone faulting her for eating the apple, explores the rivalry between sisters Rebekah and Leah, and reveals the deep friendship and love between Naomi and Ruth. Several other skits also focus on how biblical women dealt with the consequences of their decisions.
In addition, James includes a study guide for each skit. She provides the relevant Bible verses pertaining to the stories, and asks pertinent questions for further reflection. Women of all ages can use these guides to stop and think about their lives and how they might have responded if they had been faced with the same circumstances as these biblical women.
Useful for Sunday school lessons, women's groups or ministries, "Skits with a Touch of Humor and Women of the Bible Study Guides" is sure to inspire and encourage.
"Skits with a Touch of Humor and Women of the Bible Study Guides"
By Edna Yvonne James
Softcover | 8.25 x 11 in | 88 pages | ISBN 9781462719969
E-Book | 88 pages | ISBN 9781462719976
Available at any bookseller, Amazon, Barnes & Noble and personal website: eyjames.com
About the Author
Edna Yvonne James has a B.S. in secondary education and an M.A. in English language and literature. She taught junior and senior high school English in East St. Louis, Ill. for 36 years before retiring. She is also the author of "Seeds for Sermons, Talks, and Addresses," a collection of theme-based talks on living faithfully, serving humbly and witnessing powerfully. It offers wise and biblically sound guidance to people seasoned or new to the Christian ministry who seek inspiration for their service and witness. The themes examine biblical texts, promote understanding of their basic meanings, sort through the interpretations of complicated passages, and show how the readings provide insights into God's plans for each Christian and for the world.
CrossBooks, a division of LifeWay Christian Resources of the Southern Baptist Convention, is a Christian publishing imprint committed to bringing more Christian voices into the publishing industry. Established authors, first-time authors, and authors anywhere in between can meet their goals and fulfill their vision for their books by publishing with CrossBooks. CrossBooks' innovative style of publishing blends the best of traditional and self-publishing. While our authors contribute monetarily to cover the cost of publishing, we maintain a strict moral and quality standard that every manuscript must meet for us to publish. For more information on publishing your Christian book with CrossBooks, log on to crossbooks.com or call 1-866-879-0502.
###