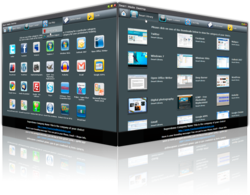 That equals to being a fool, having fame and no fortune. A lot of guys out there have fame doing this and doing that, but they are broke.
Mike Tyson
Henderson, Nevada (PRWEB) January 24, 2013
Smart Media Technologies could help some Smart Celebrities collect some serious money. Every year celebrities bring 10's of millions of new people into social networks so that they keep informed of what is going on with them. Now this alone brings in billions of dollars a year for social media sites, and while it is publicity for the celebrities, it is actually does far more for the social media sites. Who would have ever thought that someone would invent a way to get nearly every celebrity on earth to promote their business without any compensation whatsoever?
Smart Media Technologies is in its final phase of beta test for version 2 of Home Page Pays. There are currently over 1 million people using version 1. Version 2 offers a lot more than Version 1 now so much so that it's like comparing cars to Cadillacs. With v2 users will be able to play games, win cash and prizes and enter daily contests without ever spending any money. It also has a social aspect to it where they can use Smart Mail, Smart Chirp, Smart Chat and Smart Discussions.
Here is where they really differ from other social sites and how Smart Celebrities could really make some serious money. Unlike other social programs that keep their own income, SMT will share its ad revenue with its users through v2. SMT earns revenue no matter where the user is online even on Facebook. They give 10% of the ad revenue to the end user through Smart Points that they can spend in an online rewards store. This is similar to frequent flyer miles only the user never spends any money to get them. Every Home Page Pays system looks mostly the same except for the branding, however, they are all seamlessly connected. The branding allows a business to brand the system in various places and then give it away to their customers similar to a virtual franchise. The business then earns 3 times whatever the user earns except they get money not smart points.
This allows businesses to stay on the top of their clients minds whenever they are online.
Here below is a list of Celebrities and the number of fans on Facebook according to Reuters:
Eminem has 56,006,575
Rihanna has 54,792,058
Shakira has 49,209,059
Cristiano Ronaldo has 42,832,224
Justin Bieber has 42,469,966
Lionel Messi has 34,571,851
Beyonce has 34,554,682
Will Smith has 29,596,136
Jackie Chan has 25,180,559
If a celebrity were to purchase one of these branded systems and then instead of saying "follow me" on Twitter and Facebook they added HPP, not only would they have a better way to allow their fans to follow them, but they would also earn huge sums of money. No one can predict the future or now how much time each fan spends online, but it is possible to use some figures that anyone can agree with. Instead of the Multi-Millions listed above let's use 1 million. Not knowing how long people spend online and what they will earn, let's use the smallest coin, a penny. If each of those 1 million earned 1 penny a day, that is 30 cents a month for each, the celebrity would then earn 90 cents - 3 times as much. That is $900,000 a month and nearly $11 million a year. Remember that these figures have been highly deflated. What would be the point of paying anything if people actually only made a penny a day? While people can follow as many people as they want they are actually going to have only one branded system that they are accessing through HPP.
Also since those fans are all rewarded by SMT to give the system away the number of people who end up with the celebrities branded system can skyrocket fast! And they earn from everyone who has their system not just the fans they told but people they gave it to - all for doing what they already do for free - on Facebook and Twitter.
To learn more about Smart Media Technologies visit their website at: http://smartmediacommunications.com