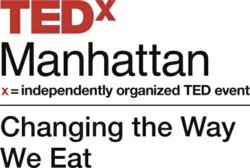 Each participant joins us with various backgrounds in food and farming and will share their insights and expertise on the sustainable food movement, said Diane Hatz, TEDxManhattan host
New York, NY (PRWEB) January 24, 2013
TEDxManhattan "Changing the Way We Eat" will take place from 10:30am - 5:45pm on February 16, 2013, in New York City. With a brilliant line-up of industry experts, TEDxManhattan invites communities, organizations, and individuals to organize viewing parties for their one-day TEDx event that will explore the state of our food system and progress toward sustainability in eating and farming.
Supported by The Glynwood Institute for Sustainable Food and Farming, the independently organized event will gather speakers and audience members from diverse backgrounds to create new synergies, connections, and collaborations across disciplines. The goal of the event is to help break the food movement out of its "bubble" and introduce the TED/TEDx audience and viewers across the country to the innovative work being done in this field.
Some of the most important experts in the food movement will speak, including:
•Anna Lappe, Small Planet Institute - Marketing food to children
•Colbin, Natural Gourmet Institute - How to think about food
•Chef Ann Cooper, Food Family Farming Foundation - School food
•Chef Bill Yosses, White House Pastry Chef - Food physics
•Chef Peter Hoffman, Back West and Back West Forty - Energy and agriculture
•Cheryl Kollin, Farm to Freezer - TEDxManhattan Challenger winner
•David McInerney, Fresh Direct - New approach to food retailing
•Fred Bahnson, Wake Forest University School of Divinity - Food and faith movement
•Gary Hirshberg, Stonyfield Farm - Lack of science around genetically modified organisms (GMOs)
•Ladonna Redmond, Institute for Agriculture and Trade Policy – Food Justice
•Lindsey Lusher Shute, National Young Farmers Coalition - Young farmers
•Maisie Greenawalt, Bon Appetit Management Company - How the humane sausage gets made
•Peter Lehner, NRDC - Food waste and energy
•Simran Sethi, journalist, author and educator - Looking beyond food to the seeds that produce our food
•Steve Wing, University of North Carolina - Community health impacts of factory farms
•Tama Matsuoka Wong, Meadowsandmore - How I Did Less and Ate Better: Thanks to Weeds
** speaker list subject to change
"We are overwhelmed to have such an acclaimed panel of speakers for the third annual TEDxManhattan event," said Diane Hatz, TEDxManhattan host and Co-Founder and Director of The Glynwood Institute for Sustainable Food and Farming. "Each participant joins us with various backgrounds in food and farming and will share their insights and expertise on the sustainable food movement. Our goal is to curate a conference that is focused on shifting the United States food system to one that is healthy and accessible to all. We are confident that this event will not only raise awareness of these important issues, but will change the way the mainstream food movement thinks about food access and food system change."
As the event approaches, speakers will chat live on Twitter @TEDxManhattan:
1/24/2013 4:00pm Anna Lappe & 4:30 pm Cheryl Kollin
1/31/2013 4:00pm Ann Cooper & 4:30pm Tama Matsuoka Wong
2/6/2013 4:00pm Simran Sethi
2/7/2013 4:00pm Maisie Greenawalt & 4:30pm Peter Lehner
2/14/2013 4:00pm Lindsey Lusher Shute
The full day of talks will be webcast live from The TimesCenter, providing access to viewers worldwide. The conference will be broken into three sessions: Inform, Educate, and Empower (10:30am, 1:30pm, 4:00pm), allowing viewing parties time to hold discussions, bring in local speakers, and sample local and organic foods.
There is no fee associated with hosting an official viewing party, just compliance with TED's rules. TEDx viewing parties must be free of charge to an audience of up to 100 people, show the webcast free of any advertising or promotion for sponsors, and follow TED's guidelines regarding commercial and non-commercial venues. Though the conference is best viewed in its entirety, viewing parties in different time zones and hosts facing other scheduling issues may show just one or two sessions and still register as an official viewing party for TEDxManhattan.
Go to http://www.livestream.com/tedx to access the webcast or locate a viewing party in your area. To download the complete list of viewing party rules and webcast specifications or for questions, visit tedxmanhattan.org. Videos of the talks will be posted after the conference.
About TEDx
In the spirit of ideas worth spreading, TED has created a program called TEDx. TEDx is a program of local, self-organized events that bring people together to share a TED-like experience. Our event is called TEDxManhattan "Changing the Way We Eat", where x = independently organized TED event. At our TEDxManhattan event, TEDTalks video and live speakers will combine to spark deep discussion and connection in a small group. The TED Conference provides general guidance for the TEDx program, but individual TEDx events, including ours, are self-organized. (http://www.tedxmanhattan.org)
About TED
TED is a nonprofit organization devoted to Ideas Worth Spreading. Started as a four-day conference in California 25 years ago, TED has grown to support those world-changing ideas with multiple initiatives. The annual TED Conference invites the world's leading thinkers and doers to speak for 18 minutes. Their talks are then made available, free, at TED.com. TED speakers have included Bill Gates, Al Gore, Jane Goodall, Elizabeth Gilbert, Sir Richard Branson, Nandan Nilekani, Philippe Starck, Ngozi Okonjo-Iweala, Isabel Allende and former UK Prime Minister Gordon Brown. The annual TED Conference takes place each spring in Long Beach, California, along with the TEDActive simulcast in Palm Springs; the annual TEDGlobal conference is held each summer in Edinburgh, Scotland.
TED's media initiatives include TED.com, where new TEDTalks are posted daily, the recently launched TED-Ed platform for students and educators, the Open Translation Project, which provides subtitles and interactive transcripts as well as the ability for any TEDTalk to be translated by volunteers worldwide, and TEDBooks, short e-books by speakers that elaborate on a single idea originally presented on TED's stage. TED has established the annual TED Prize, where exceptional individuals with a wish to change the world are given the opportunity to put their wishes into action; TEDx, which offers individuals or groups a way to host local, self-organized events around the world, and the TED Fellows program, helping world-changing innovators from around the globe to become part of the TED community and, with its help, amplify the impact of their remarkable projects and activities. Follow TED on Twitter or on Facebook.