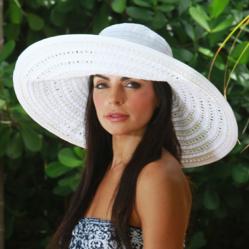 Sun hats add the finishing touch to any beach wedding outfit while giving sun protection and shade.
Kentfield, California (PRWEB) January 24, 2013
SolEscapes.com has created a special category on their web site "Beach Wedding Hats" displaying a collection of sun hats that is perfect for the bride or guests to wear during an outdoor island resort or beach destination wedding. Not only do sun hats protect against the harmful sunrays and give shade in the scorching sun, they are also one of the most stylish beach wedding accessories and can really add the finishing touch to a wedding outfit.
Some brides have given up the veil in favor of a stylish sun hat when getting married on the beach or on the resort grounds. Styles range from dramatic wide brims to more understated medium brim styles and trendy fedoras.
Wedding guests should consider the bride and style of wedding when choosing the appropriate hat, as it is important not to overshadow the bridal party. The "Beach Wedding Hats" are also great options for honeymooners.
5 Fantastic Beach Wedding Hat Styles for the Bride or Guest:
•Sea Breeze – Elegant Style - Beautiful classic white 7" ribbon/ straw combination picture hat.
•Nauru – Glamorous Sophistication - Braided straw hat in cream with gold sparkle.
•Bimini – Classic Style - Ribbon/toyo straw ribbon hat with memory wire in White, Black, Turquoise, Aegean Blue, and Royal Blue.
•Lida – Dramatic Flair - A fine Milan lampshade hat in a beautiful Royal Blue. Also comes in Violet, Natural, Black, Tangerine and Navy Blue.
•Mallorca – Trendy Chic Style - Fine Milan Fedora with silk scarf in purple and peppermint.
SolEscapes is a California based online boutique offering a unique selection of stylish and practical sun, beach and resort essentials for all your warm weather needs. SolEscapes offers personalized service, high quality products and fast affordable shipping. Merchandise including all beach hats is carefully and beautifully packaged to ensure a perfect arrival. For more information please visit SolEscapes.com. You can also connect with SolEscapes on Facebook, Twitter and Pinterest.