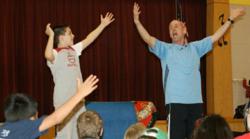 "We loved it!!! The show resonated with all of my students and teachers. It was definitely a hit at my school."
Ms Kate Brandley, Principal
Pope John Paul II Academy, Neponset Campus, Boston, MA
(PRWEB) January 30, 2013
Since its debut in August of 2012, over 50,000 students throughout the eastern United States have been inspired by Jedlie Productions' school assembly program "We Will ROAR - Respect Others, Accept Responsibility!!!" http://www.wewillroar.com . One of the show's highlights comes when Jedlie, (former social worker Jed Doherty) gets the crowd to chant the "We Will ROAR!!!" theme;
"I promise to be the first to show respect
Treat others with the dignity all people should expect
I always use good manners, it's what's my life's about
I am proud to care about the world and to join my friends to shout
We Will ROAR"
"The song resonates with kids," says Doherty. "I believe most kids love to learn. They want to feel safe and feel respected in their schools. My show and song help get everyone excited about building a safe and caring learning environment. We decided to make the song available to anyone for free because creating caring schools is so very important."
At a recent performance in New Hampshire "Josh", a fifth grader, was excited to join Jedlie on stage to help lead his classmates in song:
"I know that I matter, I know I have a say
I know the choices that I make can build a better way
I will give my best effort, in each and everything
I will join with my classmates and together we will sing
We Will ROAR!!!"
"We Will ROAR!!!" was created to help motivate students to work together to create a culture of caring and kindness. The show addresses the issues of bullying and cyber bullying by urging bystanders to speak up and help anyone being hurt. The show is based on the Olweus anti bullying program. In addition to speaking up when others are being hurt the show, and song, motivates students to reach out to include everyone.
"I promise to accept responsibility to care
Always look for ways to help others and to share
I will make everybody feel welcome everyday
Standing together full of pride we will say
We Will ROAR!!!"
Interested educators, students and parents can download the "We Will ROAR!!!" theme song by visiting http://www.wewillroar.com. For more information you can call 800-231-1879.