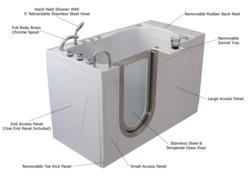 This new E-commerce website offers commercial facilities that are in the aging in place industry, easy access to ordering walk bathtubs and ADA compliant showers.
Denver, CO (PRWEB) January 24, 2013
Aging Safely, a national walk bathtubs supplier, officially announces that its online shopping cart website offers convenience, selection and quality for commercial clients seeking no hassle ordering. Commercial clients can utilize the website as a turnkey resource that increases their efficiency when ordering ADA shower products and elderly bathtubs.
Zach Wennstedt, Founder of Aging Safely said, "Commercial purchasers are often replenishing ADA compliant showers and tubs, so they may independently identify the designs for the elderly bathtub they need. Therefore, they are able to order walk bathtubs, hydrotherapy bathtubs for senior citizens and other products without sales assistance."
Assisted living facilities and commercial customers are dedicated to helping customers age in place when seniors have difficulty aging at home independently. Commercial clients know a safety bath check is essential to providing competent senior care that ensures occupants can age in place successfully. Hydrotherapy tubs, traditional walk bathtubs and ADA shower fixtures are necessary for fall prevention and caring for aging seniors.
Unlike an individual, who may purchase one specialty bathtub during their lifetime, commercial clients may order many ADA compliant shower products. Often the decision-making process is fast because staff has experience ordering walk bathtubs, with and without hydrotherapy. Commercial customers typically will also know their specific needs for ADA shower fixtures and tubs.
According to Aging Safely, commercial clientele may also have on-site installers, so ordering ADA shower stall fixtures and walk bathtubs without assistance can speed up delivery. An onsite installer can install the ADA showers and tubs immediately, so their occupants comfortably age in place.The right ADA shower style or walk in showers design can potentially make assisted living or nursing home residents more independent. Many commercial clients also use hydrotherapy for patients and residents, and they may prefer a particular hydrotherapy spa.
Hospitals, assisted living facilities and other commercial clients will enjoy the ease of placing an order. The extensive online showroom and secure, fast check out make it easy to order efficiently. The senior care baths promote a positive aging at home experience, and the shopping cart guarantees 100 percent satisfaction on all walk bathtubs and ADA showers.
Tye Wennstedt
720-495-5497
info(at)walkbathtubs(dot)com