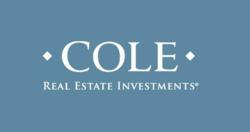 Our continued success in 2012 was a reflection of Cole's proven leasing strategy and the expertise of our leasing teams
Phoenix, AZ (PRWEB) January 24, 2013
Cole Real Estate Investments (Cole), a diversified real estate company, announced it executed leases totaling 1,658,000 square-feet at Cole-related properties throughout 2012. The transactions included 390,000 square-feet of new leases and 1,268,000 square-feet of lease renewals, bringing Cole's multi-tenant retail property occupancy rate to 97.7%. 
"Our continued success in 2012 was a reflection of Cole's proven leasing strategy and the expertise of our leasing teams," said Marc Nemer, president and chief executive officer. "As market conditions improve, we see tenants competing for prime retail space that meets their current and future needs. The well-managed properties in our portfolio remain an ideal fit for the quality, creditworthy tenants we partner with."
Notable new leases included five separate transactions with retailer Five Below at locations nationwide, including Camp Creek Marketplace in East Point, GA (10,000 square feet); Cumming Town Center in Cumming, GA (8,000 square feet); Waterside Marketplace in Chesterfield, MI (8,000 square feet); Mueller Regional Center in Austin, TX (7,500 square feet); and Sunset Valley Homestead in Austin, TX (8,000 square feet).
Other notable new leases included Ashley Furniture (37,900 square feet) at Eastland Center in West Covina, CA; Ulta (11,500 square feet) at Winchester Station in Winchester, VA; Kirkland's (6,000 square feet) at Oxford Exchange in Oxford, AL; Big Lots (40,000 square feet) in Whiteville, NC; and DownEast Home & Clothing at both Pocatello Square in Pocatello, ID, (7,000 square feet) and SanTan Village Marketplace in Gilbert, AZ (18,000 square feet).
Key lease renewals for the year included the following transactions in markets nationwide:
JCPenney (101,000 square feet), T.J.Maxx (30,000 square feet), Walmart (41,000 square feet), Marshalls (32,000 square feet), Old Navy (18,800 square feet) and Petco (15,000 square feet).
Additionally, Cole's Asset Management team signed 1.1 million square feet of lease extensions and new development across its portfolio in 2012.
"A focus on active portfolio management remains an integral part of Cole's leasing strategy," said Brett Sheets, senior vice president of leasing. "Our teams execute new leases, extend and renew deals with key tenants, and integrate new retail and restaurant concepts into lease plans as part of our ongoing effort to maximize the strength and value of Cole's multi-tenant property roster."
About Cole Real Estate Investments
Founded in 1979, Cole Real Estate Investments is one of the nation's leading acquirers and managers of high-quality, income-producing retail, office and industrial real estate assets. Cole primarily targets net-leased single-tenant and multi-tenant retail properties under long-term leases with creditworthy tenants, as well as single-tenant office and industrial properties, using a conservative investment and financing strategy. According to Real Capital Analytics, a leading industry research firm, Cole has established itself as the No. 1 buyer of all single-tenant assets for the past 10 years. At the end of December 2012, Cole-related entities owned and managed 2,014 assets representing approximately 76 million square feet of commercial real estate in 48 states, with a combined acquisition cost of $12.4 billion. To learn more, visit http://www.colecapital.com.
Forward-Looking Statements
Certain statements in this press release may be considered forward-looking statements that reflect the current views of Cole Real Estate Investments and Cole's management with respect to future events. Forward-looking statements about Cole's plans, strategies and prospects are based on current information, estimates and projections; they are subject to risks and uncertainties, as well as known and unknown risks, which could cause actual results to differ materially from those projected or anticipated. Forward-looking statements are not intended to be a guarantee of any event, action, result, outcome or performance in future periods. Cole does not intend or assume any obligation to update any forward-looking statements, and the reader is cautioned not to place undue reliance on them.