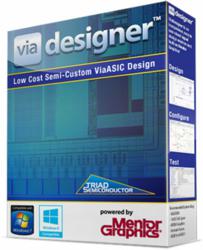 Download powerful and easy-to-use mixed signal circuit design and simulation software
Winston-Salem, N.C. (PRWEB) January 29, 2013
ViaDesigner™ mixed signal circuit design and simulation software that runs on Windows® PCs is available for download at TriadSemi.com. Users can register for a free, full-featured 30-day evaluation copy of the software on the website or contact sales(at)triadsemi(dot)com to purchase the software.
Triad Semiconductor's mission is to drive the NRE cost of mixed signal custom ICs to zero.
With ViaDesigner, systems engineers and circuit designer can design sophisticated analog and digital circuits that can be implemented in Triad's VCA technology. ViaDesigner empowers designers to create and simulate high-performance circuits that they can then target to their own via-configured application specific integrated circuit or ViaASIC™.
ViaDesigner includes:

Schematic capture
Hierarchical schematic and multi-page support
Symbol editor & automatic symbol generator
Digital hardware description language (HDL) editor
Support for both VHDL and Verilog HDL design entry
HDL editor syntax color coding
VHDL-AMS modeling of analog, digital and mixed signal functions
SPICE simulation
Digital register transfer level (RTL) simulation
Digital gate level simulation
VHDL-AMS simulation
Combined VHDL and Verilog simulation
Combined analog and digital mixed signal simulation
SPICE, VHDL-AMS, Verilog, VHDL and schematics can all be combined in a unified simulation
VHDL-AMS simulations that are 100x to 1000x faster than SPICE simulations
DC, Transient, AC simulations
Easy-to-use graphical waveform viewer
Waveform calculator and waveform generator
Waveform measurements
Powerful scripting of schematic, simulation, waveform and net listing functions
ViaDesigner is a powerful, full-featured mixed signal circuit creation environment. Triad is targeting non-IC designers with the ViaASIC / ViaDesigner design methodology. To kick start the design process, ViaDesigner includes a powerful set of design wizards. These design wizards generate sophisticated mixed signal circuits while relieving the designer of the low-level full-custom microchip design details.
ViaDesigner Wizards:

Amplifiers (single-ended, fully-differential, low-noise, low-power, micro-power, wideband,…)
Analog logic (logic functions that live in the analog power domain)
Bias generators
Capacitors
Clock generators
Comparators
Digital to Analog Converters (DAC) – voltage mode and current steering options
Filters (low, high, band pass, band reject) – continuous time & switched capacitor versions
Integrators
Linear Regulator
Configurable I/O pad cells
Programmable Gain Amplifier (PGA)
Power On Reset (POR)
Resistors
Successive Approximation Register (SAR) Analog to Digital Converter (ADC)
Sigma Delta Modulator
Sigma Delta ADC (16, 18, 20, 24 bit versions) with built-in decimation filters
Switches
Transimpedance Amplifier (TIA)
High voltage amplifiers
High voltage capacitors
High voltage drivers
High voltage linear regulator
High voltage switches
ViaDesigner was selected as one of EDN Magazine's Hot 100 Products of 2012. Hundreds of designers are already using ViaDesigner and actively contributing reference designs to the ViaDesigner community. "The ViaDesigner software is powerful enough for mission-critical high-performance applications in defense, industrial and medical markets. And, a group of ten interns at NASA Goddard are proving that ViaDesigner is an ideal design environment for students just learning circuit design." stated Reid Wender, VP of Marketing at Triad Semiconductor.
A free, fully-functional copy of ViaDesigner can be downloaded from http://www.triadsemi.com/viadesigner.
Customers seeking to purchase ViaDesigner can contact Triad Semiconductor sales at info(at)triadsemi(dot)com or via the Triad website at http://www.triadsemi.com/contact.
Companies with mixed signal applications that could benefit from the low-costs, accelerated-development and low-risk of ViaASIC integration should contact Triad at sales(at)triadsemi(dot)com. Call (336) 774-2150 to speak with a ViaASIC application architect and explore the technology and business benefits of ViaASIC integration.
Via Configurable Array Technology
Triad is a fabless semiconductor company and leading supplier of configurable mixed signal integrated circuits (ICs). Triad utilizes patented via configurable array (VCA) technology that reduces custom IC development costs by 75% or more and allows for designers to go from project kickoff to working silicon in as little as 3 to 6 months. VCA technology only requires a single semiconductor mask change (the via mask) to configure and interconnect any analog or digital resource. Single via mask configuration means design re-spins or derivative designs can be taped out, fabricated, packaged, tested and delivered to customers in four weeks. This compares to the project-killing four to six month delays that can occur with full custom chip design.
About Triad Semiconductor
Triad Semiconductor is on a mission to make mixed signal IC design fast, easy and affordable. Founded in 2002, Triad is a trusted supplier of configurable mixed signal ASIC solutions to the defense, aerospace, medical, industrial, commercial and automotive markets. Triad was recognized in 2012 as one of Inc. Magazine's 500 Fastest Growing Private Companies. Triad is an ISO9001:2008 certified company. Triad is ITAR-certified and supports a fully ITAR-certified supply chain for defense applications.