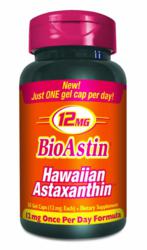 Due to natural Astaxanthin's powerful antioxidant and anti-inflammatory properties, indications are that it will prove to be superior to all other nutraceuticals for eye health
Kailua-Kona, HI (PRWEB) January 24, 2013
January is National Eye Care month and research shows a microalgae-based nutrient called Astaxanthin (pronounced asta-ZAN-thin) from Nutrex Hawaii may be a more potent protector of eye health than the proverbial carrot.
"Nutrients like beta carotene found in carrots are well known for eye health, but they aren't able to cross the blood brain barrier to protect the inner eye," says Bob Capelli, co-author of The World's Best Kept Health Secret: Natural Astaxanthin and Vice President at Nutrex Hawaii. "Astaxanthin is different. Studies show this powerful antioxidant can cross the blood-retinal barriers and protect the inner eye from environmental conditions and fatigue."
Eyes are continuously under attack. Ozone layer depletion, pollution, contaminants and the high levels of stress in modern life lead to an assault on our vital organs, including our eyes. There has been a considerable amount of research on astaxanthin's positive effect on eye health.
Recently, two studies have showed that 6 mg per day of natural astaxanthin supplementation for four weeks can reduce eye soreness, dryness, tiredness and blurred vision. (1,2)
"There are so many potential benefits for the eyes from Astaxanthin use and the research being conducted is very exciting. Due to natural Astaxanthin's powerful antioxidant and anti-inflammatory properties, indications are that it will prove to be superior to all other nutraceuticals for eye health," added Capelli.
Astaxanthin is sold in softgel form online at Nutrex-Hawaii.com and at natural health stores. Experts recommend a 6 to 8 mg per day dosage for eye health. A free version of the newly revised book The World's Best Kept Health Secret: Natural Astaxanthin is available for members of the press by emailing traci(at)nutrex-hawaii(dot)com.
About Nutrex Hawaii
Founded with the goal of harnessing the benefits of microalgae to alleviate malnutrition and promote health, Nutrex Hawaii is a global leader in microalgae products. Learn more at Nutrex-Hawaii.com.
(1) Shiratori, K., et al (2005)."The effects of Astaxanthin on Accommodation and Asthenopia—Efficacy Identification Study in Health Volunteers." Clinical Medicine. 21(6):637-650.
(2) Nagaki, Y. et al.(2006). "The supplementation effect of astaxanthin on accommodation and asthenopia. Journal of Clinical Therapeutics and Medicines. 22(1):41-54.