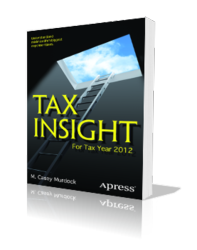 A roadmap to help readers pay as little tax as possible.
New York, NY (PRWEB) January 24, 2013
Countless entrepreneurs and company employees enlist the help of CPAs to lower their tax obligations. But when accounting professionals or a dedicated software program aren't providing quantifiable results, it's time for economically minded people to unearth those highly prized tax-saving strategies on their own.
"Tax Insight: For Tax Year 2012" by M. Casey Murdock provides sound advice to everyone looking to decrease their tax obligations. In straightforward style, and using everyday language and real-life examples, the book breaks down the most dreaded compendium of cash-depleting rules and regulations: the IRS Tax Code. Unlike many encyclopedic tax books which are often too technical and even impenetrable for most readers, this one breaks down challenging components simply and clearly, thereby providing a roadmap to help readers pay as little tax as possible.
"Tax Insight: For Tax Year 2012" also addresses key questions, including how to know when it's okay to file one's own return vs. hire a tax professional; how to avoid common tax strategies that deplete cash rather than save it; and how to claim every appropriate deduction. The book includes information to help readers see the relationship between all aspects of the tax return; how use real estate or a small business to foster tax reduction; and how to make tax-reduction strategies a year-round habit. For a worst-case scenario, the book also describes how to prepare for and survive an audit.
To learn more about "Tax Insight: For Tax Year 2012," visit http://www.apress.com/9781430247371

ISBN13: 978-1-4302-4737-1
*376 Pages
*User Level: Beginner to Advanced
*Publication Date: December 26, 2012
*Available eBook Formats: EPUB, MOBI, PDF
*Print Book Price: $29.99
*eBook Price: $20.99
About the Author
M. Casey Murdock is a professional tax preparer and financial adviser. As an enrolled IRS agent with a passion for minimizing taxes, he demystifies the U.S. tax code for his clients on a daily basis.
About Apress Media
Apress Media is a technical and business publisher devoted to meeting the needs of IT professionals, software developers, programmers, and business leaders with more than 1,000 books in print and electronic formats. Apress provides high-quality, no-fluff content that helps serious technology professionals build a comprehensive pathway to career success. Since 2007, Apress has been part of Springer Science+Business Media, one of the world's leading scientific, technical, and medical publishing houses, enabling global distribution of Apress publications.
For more information about the innovative approach Apress takes to publishing, please visit http://www.apress.com.