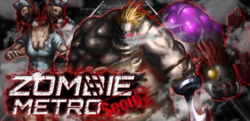 (PRWEB) January 26, 2013
Gamers who are craving an entirely brand new shooting RPGs – one that blends stunning HD graphics, an intense storyline, thrilling gameplay, dynamic battles and more – can now download BroadCON's latest exciting creation: Zombie Metro – Seoul. The exciting, no-cost app is designed for Android-enabled devices, and available in English and Korean.
In Zombie Metro – Seoul, gamers fast-forward to the year 2020 and discover that Seoul has been overtaken by Zombies. They must navigate through the ruined city, take on the Zombie hordes in the Metro stations, strengthen their character as they fight through Seoul, and wage total war against the enemy – so they can finally emerge victorious as a hero.
Other special features found in Zombie Metro – Seoul include:

Choose one of two hero characters: Dennis or Yoa, each with different skills and strengths
Action-packed storylines full of twists, turns and exciting adventure
A virtual pad to interact in 3rd Person Action
Elegant and stunning high quality HD graphics
Exciting sound effects that enhance the fun and intensity
Resistance mode that requires forming alliances to repel Zombie forces
Defeat high-powered Zombie bosses and reveal special items and rewards
Wage dynamic battles using different weapons, armor items and defense towers.
Access the store to purchase extra items for even more exhilarating and dynamic gameplay
"Forget all shooting games until now, and all RPG games that people have ever played – the new trend is shooting RPGs, and Zombie Metro – Seoul is the pioneer" commented Stephen Choi, CEO of BroadCON.
Zombie Metro – Seoul is a no-cost app that gamers can download right now from Google Play at http://bit.ly/SEQMb2. A video demo is also available.
About BroadCON
BroadCON is a developer of games and apps for android, ios, and html. The CEO of the company, Stephen Choi, wanted to create a company with the top professionals in the app development field and the capability to work with the most up to date technology. They currently have a broad selection of entertaining and creative apps available for download.
For more information contact James Lim
+82 10 2244 2450
Contact(at)gameberry(dot)co(dot)kr
http://broadcon.co.kr/broad/index.php