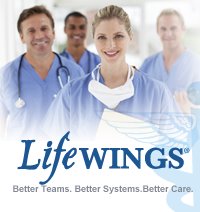 It is not enough to just have a group of experts in a high tech room, they must be an expert team. The LifeWings training will help ensure that teamwork happens
Collierville, TN (PRWEB) January 31, 2013
Yuma Regional Medical Center has selected LifeWings to be their partner to implement TeamSTEPPS in their brand new Hybrid OR. YRMC is a 369-bed, Medicare-certified acute care hospital staffed by skilled healthcare professionals who are committed to providing the highest level of patient-family focused care. YRMC also serves as the base for the area's Emergency Medical System and operates one of the busiest Emergency Departments in the state.
This project will incorporate LifeWings new auditing technology. LifeWings Leadership Skills and Implementation Workshops equip hospital executive teams and managers with the tools and change management skills to internally lead the TeamSTEPPS project. The workshop includes a presentation to physicians, executives, and departmental leadership and will include a Leadership Development Institute, Safety Climate Surveys, and on-going program coaching.
Yuma Regional Medical Center is committed to providing patients with the highest quality medical care. They do this by working continuously to improve their patient safety processes to help ensure the best possible outcomes for their patients. "Yuma Regional is one of the most advanced and forward thinking medical centers in Arizona. Building a Hybrid OR just proves how dedicated they are to the most advanced, and safest, care for their patients." states Steve Harden, CEO of LifeWings Partners.
On-site training and assessments allow LifeWings to customize the TeamSTEPPS Skills Workshops. Site-specific TeamSTEPPS Hardwire Safety Tools Workshops use Lean methods and produce key operating systems that rapidly improve and sustain the teamwork between physicians, staff, their talent, and productivity.
LifeWings' TeamSTEPP coaches work with stakeholders to determine outcome measures that will document the improvements goals and to develop the plan to obtain meaningful data about program results. LifeWings, week-long Train-The-Trainer Program will qualify medical personnel to conduct the industry-leading LifeWings TeamSTEPPS Plus Patient Safety Program. The hospital organization will develop an internal capability to sustain improvements.
Steve Harden, CEO of LifeWings, says "A Hybrid OR is one of the most complex facilities in health care, and the team operating in it - interventional cardiologists, cardiovascular surgeons, and specially trained anesthesiologists, nurses, and surgical techs - must have the most exquisite teamwork and collaboration to make it work. It is not enough to just have a group of experts in a high tech room, they must be an expert team. The LifeWings training will help ensure that teamwork happens." The mission of LifeWings is to do all they can to enable healthcare professionals to provide the safest possible care, every single day.
LifeWings makes a guarantee: If you do not realize the desired results at the end of the Project, and if you have implemented all of the recommended Hardwired Safety Tools, LifeWings Partners, LLC will continue to work with you, at no additional cost, until those results are achieved.
http://www.saferpatients.com
About LifeWings Partners LLC:
LifeWings Partners LLC is a team of physicians, nurses, former NASA astronauts, former military flight surgeons, pilots, flight crew, former military officers, and healthcare risk managers. The team has melded together the best practices of high reliability organizations such as commercial aviation, U.S. Navy aircraft carriers, nuclear submarines, and nuclear power and thoughtfully adapted those practices
for use in healthcare organizations. For more information, please visit: http://www.saferpatients.com