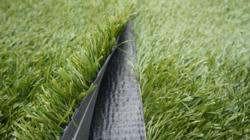 This is the only capping system which permanently merges EPDM and high-quality synthetic grass, with a proven, patented seaming technology.
Austin, Texas (PRWEB) January 30, 2013
A new, patent pending capping system called LiteEarth™ launched at the international Waterproof Membranes Conference in Dusseldorf, Germany. The system features a single-ply composite of synthetic grass fused with EPDM geomembrane to produce a flexible, durable, one of a kind product for a wide range of permanent closures.
"This is the only capping system which permanently merges EPDM and high-quality synthetic grass, with a proven, patented seaming technology," said Chuck Fleishman, director of LiteEarth. "These are all trusted, tested components with a long history of performance. By designing them to work together, LiteEarth has engineered the next generation of a truly sustainable and efficient system."
Addressing a group of more than 120 engineers, Fleishman continued to explain that the synthetic grass provides a natural looking surface, which is more aesthetically pleasing than exposed membrane or natural grass that is not well-maintained. It also eliminates the use of costly and environmentally damaging fertilizers, pesticides, fungicides and mower exhausts required for natural grass maintenance.
"Synthetic grass has been used for decades in a wide variety of functional applications, from rooftops and landscaping to airports and sports fields," said Fleishman. "LiteEarth fibers are fully tested and UV stabilized to keep the grass from fading, breaking down or losing tensile strength."
The grass is adhered to the EPDM backing, which provides an ideal balance of flexibility and durability, easily adapting to the surface of the terrain without cracking. EPDM has been used in impermeable environments, including municipal solid waste covers and other applications, for over 30 years worldwide.
The LiteEarth system provides long-term protection that is impermeable to air, gas and water, at a fraction of the cost of traditional natural grass capping. Comparatively, LiteEarth can save hundreds of thousands of dollars per acre over 30 years, by reducing materials, labor, maintenance and installation costs. LiteEarth can also save more than 400,000 pounds of CO2 per acre.
LiteEarth is delivered to the project site in pre-manufactured size and length specifications, and is easy to install using a variety of anchoring methods. Fleishman said extensive testing shows that LiteEarth can last well beyond 30 years.
For further information on LiteEarth or to speak with a representative, please visit http://www.LiteEarth.com or email info(at)LiteEarth(dot)com.
About LiteEarth
LiteEarth is a patent pending, impermeable capping system for the long-term cover of landfills, coal ash, gypsum deposits and land reclamation projects. The system permanently combines the latest synthetic turf and EPDM membrane into a long-lasting composite. The result is an efficient, economical and environmentally-responsible solution with very low installation and life cycle costs. The system has been fully tested according to ASTM standards.