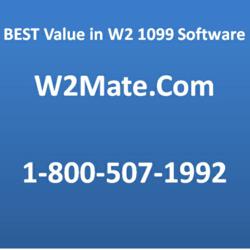 Free 2012 W2 1099 software trial can be downloaded from W2Mate.com . Customers can purchase the software and receive it instantly.
Chicago, IL (PRWEB) January 31, 2013
Today, January 31, 2013, is the last day to print and mail 2012 1099 forms to recipients. Real Business Solutions (http://www.W2Mate.com/), makers of W2 Mate software, are helping businesses and tax professionals meet the IRS mandated deadline by providing powerful tools to import, fill out, print, email, PDF and e-File 1099s.
Generally, Forms 1098, 1099, 3921, 3922, and W-2G information bust be furnished to recipients by January 31, 2013. Forms 1099-B, 1099-S, and 1099-MISC (if payments in boxes 8 or 14 are being reported) must be furnished by February 15, 2013. This also applies to statements furnished as part of a consolidated reporting statement. Brokers and barter exchanges may furnish Form 1099-B anytime but not later than February 15, 2013.
Real Business Solutions (http://www.W2Mate.com), an accomplished provider of payroll tax and 1099 software solutions, invites businesses, CPAs, tax professionals and 1099 processing services to test drive the 2012 W2 Mate software. W2 Mate is loaded with features that make it easy and affordable for business filers to prepare IRS information returns including 1099-MISC, 1099-INT, 1099-DIV, 1099-R, W-3, 1096, 1099-S, 1098-T, 1098, 1099-A, 1099-B, 1099-C, 1099-K, 1099-PATR and 1099-OID. The 2012 / 2013 tax season is easy and stress-free with W2 Mate software.
A free 2012 1099 processing software evaluation can be downloaded from http://www.W2Mate.com. Customers can purchase the software and receive it instantly.
W2 Mate saves users time and money by printing 2012 / 2013 1099-MISC forms copy B and Copy C on regular white paper. This eliminates the need to buy expensive laser red-ink forms. All substitute forms generated by this 1099-MISC software comply with 2012 IRS publication 1179 (General Rules and Specifications for Substitute Forms 1096, 1098, 1099, 5498, W-2G, and 1042-S).
In a statement Nancy Walters, W2 Mate product manager at Real Business Solutions said, "W2 Mate W2 1099 program is a special breed of applications that fills a niche often left by many tax systems. W2 Mate makes the compliance tasks associated with W2 1099 reporting easy and affordable for both businesses and tax professionals."
A free 1099 printing software demo can be downloaded by visiting http://www.W2Mate.com/.
According to 2012 IRS regulations, penalties may be assessed for failure to file correct information returns (1099, 1098 and other similar tax forms) by the due date, without reasonable cause. This includes Form 1099-MISC. The penalty may also apply if the filer shows incomplete or incorrect information, or files on paper when required to file electronically. Businesses and accounting professionals required to process IRS Form 1099-MISC this year can rely on W2 Mate for all their 2012 / 2013 filing needs.
W2 Mate is the perfect software program for business filers looking for answers to questions like how and when to send 1099MISC in 2013, how to file 2012 1099s electronically, how to file form 1099 with the Massachusetts state tax department, how to prepare 1099-MISC in Sage Peachtree (50), how to print out 2012 1099 tax forms on a computer and many other similar questions.
W2 Mate 2012 has an exclusive mechanism for importing data from different accounting and payroll tax software applications to allow filers print a wide range of w2 and 1099 forms. W2 Mate can extract and remap 1099 information available inside Sage Peachtree (Pro, Complete, Premium, Quantum), Microsoft Dynamics (GP or SL), Intuit QuickBooks (QuickBooks Pro, QuickBooks Enterprise, QuickBooks Premier), Sage DacEasy and Excel.
If required to e-File, 1099 reports must be filed in "machine-readable form", which includes electronic data transfer and file uploads through IRS FIRE System. The 2012 W2 1099 electronic reporting module inside W2 Mate software prepares an unlimited number of E-File transmittals which comply with Internal Revenue Service's publication 1220. Processing W2s and 1099s electronically is easy to use, efficient, secure, fast, flexible, and above all saves filers valuable time and money. Any filer of 2012 W2 or 1099 information returns may submit their forms electronically; however any employer or business who files 250 or more forms for any calendar year must file electronically.
Risk-free trial of W2 Mate 2012 can be downloaded from http://www.W2Mate.com/. Customers can purchase W2 Mate and receive it instantly.