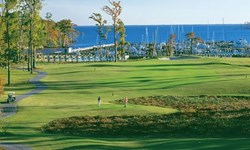 Best North Carolina Community of the Year - Albemarle Plantation
Herfort, NC (PRWEB) January 24, 2013
Real Estate Scorecard, a leader in online real estate reviews, announces the 2013 Bliss Award Winner for Best North Carolina Community of the Year, Albemarle Plantation.
Albemarle Plantation is located 30 minutes west of the northern Outer Banks and 20 minutes east of one of America's Prettiest Small Towns. This 2,800 acre North Carolina coastal community was thrown a curve ball in late 2011 when the real estate developer no longer wanted to be involved in sales or management. Thanks to a savvy board of directors and 779 committed property owners, the Albemarle Plantation POA successfully acquired all the common areas and amenities which includes a championship golf course, elegant clubhouse, full service deepwater marina, tennis facilities and resort style swimming pool overlooking the Albemarle Sound. This peace of mind special assessment cost property owners $3,600 and added $1 million dollars to reserves.
Simply said, the majority of folks couldn't be happier at Albemarle Plantation. Property owners describe Albemarle Plantation like this "we can count on our neighbors, we love the lifestyle, it's a place where most folks wave hello just because, on a clear day you can see the Outer Banks, we feel safe, relaxed and fortunate."
We honor Albemarle Plantation as the Best North Carolina Community of the Year for their achievement in hard times and for the natural beauty found here. There are no city lights or skyscrapers to block the night stars. Just open blue water and warm Atlantic breezes relaxing boaters playing in the protected Albemarle Sound. If you desire to live towards the northern end of North Carolina on the coast, you might regret not experiencing Albemarle Plantation before you chose where to live.
To see all of Real Estate Scorecard's 2013 Bliss Award winners, visit
http://realestatescorecard.com/breaking-community-news/best-community-of-the-year-2013-bliss-awards
About Real Estate Scorecard
Real Estate Scorecard is an unbiased real estate review website providing in depth information about the best master planned communities in Florida, Georgia, North Carolina, South Carolina and Tennessee, all in an effort to help people discover where to retire. Website address: http://realestatescorecard.com