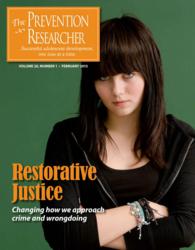 ... if restorative justice is "intervention" then restorative practices are "prevention" ...
Eugene, OR (PRWEB) January 31, 2013
Eugene, OR (PRWEB) January 31, 2013 —"Restorative justice is an exciting approach to dealing with crime and wrongdoing which is beginning to take hold within our schools and juvenile justice systems," says Steven Ungerleider, Ph.D., founding editor of The Prevention Researcher. "However, it is still new enough that many people are not aware of what restorative justice is or how it works."
The February 2013 issue of The Prevention Researcher focuses on restorative justice and its related concept, restorative practices. It provides a primer for those who are not familiar with restorative justice, and at the same time, offers information useful for those who are already using restorative justice and restorative practices within their programs.
In an introductory article, Avery Calhoun, Ph.D. highlights key developments in the restorative movement and main distinctions between the conventional and restorative justice approaches. She describes what restorative justice interventions involve and considers claims about effectiveness.
Maria Hantzopoulos, Ed.D. writes about a restorative justice model used to address community norm violations in a small urban public high school. The author provides insight into both the ways that a Fairness Committee operates on the school level and the ways that students respond to participatory and restorative practices.
An article by Susan Hanley Duncan, J.D., and Ida Dickie, Ph.D. describes a Family Group Conferencing case study within the juvenile court system in Louisville, Kentucky. The authors show how restorative justice brings together the offender and individuals impacted by the offender's behavior in a problem-solving process designed to repair the harm caused by the offending behavior.
Sandra Pavelka, Ph.D. discusses the core principles of restorative justice within schools, then examines the necessary support systems, as well as potential challenges that schools may face. She describes how restorative justice models provide schools with the opportunity to improve school culture by addressing the disciplinary standards and creating a forum for peaceful resolution of conflict and misbehavior.
Pamela Snow, Ph.D. explores the impact that oral language impairments may have on restorative justice conferencing. Her article is concerned with the oral language demands (both talking and listening) associated with restorative justice conferencing – an inherently highly verbal and conversational process.
In the issue's concluding article Colette Kimball, MPH interviews Mr. Ted Wachtel, M.A., President and Founder of the International Institute for Restorative Practices. The interview explores the concept of restorative practices, relates it to restorative justice, discusses research showing its benefits, and talks about implementing restorative practices. Wachtel notes that if restorative justice is "intervention" then restorative practices are "prevention."
The complete issue of The Prevention Researcher on "Restorative Justice: Changing How We Approach Crime and Wrongdoing" is available in a complimentary digital edition at http://www.tpronline.org.
About The Prevention Researcher
Founded in 1994, The Prevention Researcher is published by the non-profit, Integrated Research Services in Eugene, Oregon. The quarterly journal focuses on successful adolescent development and serves professionals who work with young people in a variety of organizational settings.
Each issue of The Prevention Researcher covers a single topic, presenting the latest adolescent behavioral research and findings on significant issues facing today's youth. The journal provides information about programs that create supportive environments for youth, strategies for preventing problems affecting adolescents, and resources that help youth-serving professionals.