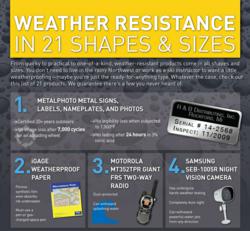 Shining examples of how technology makes everyday products better and people's lives easier
Grand Rapids, MI (PRWEB) January 30, 2013
Stay connected, organized and dry with the top 21 weatherproof products of 2013. Ranging from quirky to practical, these products were carefully selected as shining examples of how technology makes everyday products better, and people's lives easier.
Whether you're an extreme business owner or just the ready-for-anything type, we guarantee there's something on this list you've never heard of, and could put to use!
#1 Aluma-Tough anodized aluminim tags
#2 iGauge weatherproof paper
#3 Motorola MT352TPR two-way radio
#4 Samsung night-vision camera
#5 Casio Dive watch
#6 Gore-Tex clothing
#7 Baby stroller rain cover
#8 Barracuda LCD monitor
#9 FujiFilm XP100 digital camera
#10 Sangean shower radio
#11 Sunforce battery charger
#12 Wet Circuit plug strip
#13 Ted Baker Party Animal Tuxedo
#14 Belkin washable computer mouse
#15 Metal roofing
#16 Sony Xperia Arco S cell phone
#17 Dosh wallet
#18 Getac B300 laptop
#19 FrontGate Scuba MP3 player
#20 Rand McNally Microfiber map
#21 Cardo cycling Bluetooth system
Get details and links to the Top 21 Weatherproof Products of 2013 on Nap Tags.com or below.
NapTags is a manufacturer of all types of metal tags, including those that withstand all types of harsh weather outdoors, are chemical-resistant and can endure very high temperatures. Our Aluma-Tough anodized aluminum tags last 20+ years outside, including in marine environments and other extreme elements.
This list was assembled by NapTags as a service to people who need outdoor products. Links to all products shown can be found on our website.