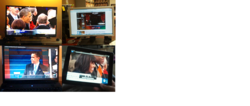 Port Washington, N.Y. (PRWEB) January 24, 2013
According to the IdeaShifters mobile panel, 69 percent of those surveyed watched President Obama's second inauguration on television, while 21 percent watched on a desktop or laptop. Mobile devices such as smartphones and tablets each accounted for 4 percent of viewership. 53 percent of those who responded were millennials, ages 18-34.
Paradigm Sample's Inauguration Survey required respondents to capture an image of the device they used to watch the inauguration proceedings. Panelists provided a variety of images of the inauguration on their devices. Also of note was the diverse coverage that was captured on laptops, desktops, and mobile devices. "Our Inauguration Survey showcased the vast array of options available to view this and other news events online," noted Sima Vasa, CEO of Paradigm Sample, adding, "Laptops and mobile devices have made it possible for network and cable coverage to be portable."
Prior to inauguration day, 91 percent of IdeaShifters panelists told us they planned to watch part or all of the 2013 inauguration. In regards to how the inauguration was perceived, 49 percent said that that they liked it very much, while 20 percent did not like it. Compared to the previous inauguration, 4 out of 10 people said they were more excited for this one because President Obama had won a second term.
About Paradigm Sample
Since 2009 Paradigm Sample's proven real-time market research has given leading companies a solid foundation to support all types of business and marketing objectives. The company's extensive experience and knowledge in building mobile-based research solutions provides information and insight that can't be acquired from traditional market-research methods. Paradigm Sample also regularly partners with other market-research companies who need the company's mobile-research platform, MobilePulse, to give their own clients compelling and valuable consumer information. This information spans all age groups, ethnicities, and regional demographics -- including the lucrative, and notoriously hard-to-reach, millennial generation. For more information, visit http://www.paradigmsample.com.