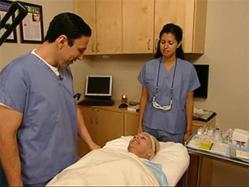 There are so many factors to be considered when examining moles and growths for signs of cancer.
Los Angeles, California (PRWEB) January 24, 2013
While cell phones are constantly blamed for causing some forms of cancer; cell phone apps are being utilized to assess the risk of skin cancer. According to a recent CBS News story companies are producing apps that allow consumers to take a photo of a mole or other skin mark and send it for analysis for free or about $5, depending on the app. (go to: goo.gl/HSGSU) There is a problem, however, since your cell phone never got its medical degree.
Dr. Simon Ourian, founder of Epione Medical Corporation, cautions against the use of cell phone apps to detect skin cancer. "While these apps may have high potential for diagnoses in the future, a photo cannot possibly serve as an acceptable substitute for a proper physical examination."
"I see the effects of sun damage every day," continues Dr. Ourian . "Aside from increasing the risk of skin cancer, the sun destroys skin tone and collagen, and causes discoloration and wrinkles."
Doctors are discovering that a melanoma can be misdiagnosed as something less sinister, or perhaps misidentified as a simple mole. In addition, an app may tell a user that they have a form of skin cancer, when in fact they do not, prompting unnecessary panic. Cell phones may be helpful, but only for initial exploratory purposes. Doctors would much rather see apps that keep track of changes in moles over time, than those that make their own diagnoses.
One reason consumers do not visit their doctor to have moles examined could be that it is hard to know which one out of fifty is worth investigating further. For every hypochondriac there is another person who is reluctant to trouble their doctor about their moles. Most moles, while ugly, are not harmful, or they are a mild form of cancer, which may be easily treatable.
A mole is not a two-dimensional object. A physician looks at its color, shape, and the edges of the mole, texture, and its size. These aspects cannot be measured from a single picture, and a doctor's in person check may prove invaluable.
Epione Beverly Hills offers free consultations for the treatment of sun damage. More information about cell phone apps used to diagnose cancer can be found on their website.