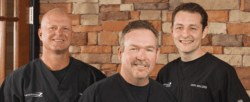 Fort Worth, TX (PRWEB) January 24, 2013
Dr. Terry M. Zang, Dr. Arthur J. Mund, and Dr. Justin Mund of Fort Worth Dental now provide the Fast Braces teeth straightening procedure to patients looking to improve their smiles. Although traditional braces work for many patients, some patients make excellent candidates for the Fast Braces technique. This technology safely moves teeth to the desired position quickly, often in just a few months. Patients interested in getting their teeth straightened can visit the dentist to determine which method will work best for their individual needs.
There are many benefits to straightening teeth other than cosmetic improvements. Some people require braces in order to improve their bite to make eating easier. Children and teenagers in particular who suffer from problems with an overbite or an under bite can correct the problem by wearing braces. Crooked teeth are harder to keep clean, and this increases risk of gum disease and other dental hygiene issues.
Traditional braces move the crowns of the teeth over a period of time before they move the roots. There are a number of benefits to using the Fast Braces method for straightening teeth. These braces are triangular in shape and move both the crown of the tooth and the root of the tooth at the same time, which reduces the length of time a person must wear braces. Because the length of time the braces are worn is short, resorption of the tooth root is comparatively low with this method. Patients also report that these braces are relatively comfortable to wear and cause a minimum amount of sensitivity.
The art of dentistry is constantly being improved as new technologies become available. Better and safer treatments often help patients get the help they need for a variety of dental issues. Fast Braces have been available for the past twenty years and have been proven to be both effective and safe in straightening teeth. Visiting a dentist is a good way to learn more about the procedure and whether one is a good candidate for this style of braces. For more information about Fast Braces, visit http://www.fortworthdental.com.
Fort Worth Dental is a general practice offering patients personalized dental care for Fort Worth, TX. Dr. Terry M. Zang, Dr. Arthur J. Mund and Dr. Justin Mund are all dedicated to their dental practice, which offers the recent FDA cleared laser procedure for gum disease and periodontal treatment. Focused on preventative, restorative and cosmetic dentistry, they each have unique attributes for the practice. To learn more about Fort Worth Dental and their dental services visit their website at http://www.fortworthdental.com.