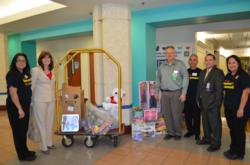 Loma Linda, Calif. (PRWEB) January 24, 2013
Employees from Ralphs Grocery Company visited Loma Linda University Children's Hospital on Wednesday, Jan. 23, to drop off several boxes of toys, as well as present a check for $4,480 that was raised from recent employee fundraising and toy collection drives to benefit the kids at the hospital. Ralphs Grocery Company will also soon be kicking off a new program to let customers and associates support their local children's hospital by donating their spare change in collection canisters located at the check stands of their neighborhood Ralphs supermarket.
The Children's Hospital fundraising campaign will run from Feb. 3 through May 25, 2013, with all the campaign proceeds from stores in the Riverside/Ontario/San Bernardino region benefiting Loma Linda University Children's Hospital. Pictured (from L to R) are: Debbie Bechtel, assistant sales manager at the Ralphs in Rancho Cucamonga; Linda Woods, store manager at Ralphs in Sierra Lakes and chair of the District 8 Cultural Council; Jeff Gavin, operations coordinator for the Inland region; Rafa Morga, clerk at Ralphs in Chino; Michael Bautista, of the Loma Linda University Children's Hospital Office of Philanthropy; and Raquel Cervantes, bookkeeper at the Ralphs in Moreno Valley.
# # #
About Loma Linda University Children's Hospital - LLUCH
The Children's Hospital is the only dedicated pediatric hospital in the vast geographic region of San Bernardino, Riverside, Inyo and Mono counties. With 348 beds dedicated just for kids, one of the largest Neonatal Intensive Care Units (NICU) in the country, and more than 100,000 children who come each year, LLUCH is a major pediatric teaching facility, known worldwide as the pioneer of neonatal heart transplantation. LLUCH is part of Loma Linda University Health – the umbrella organization encompassing Loma Linda University's eight professional schools, Loma Linda University Medical Center's six hospitals, and more than 900 faculty physicians located across the Inland Empire in Southern California. A Seventh-day Adventist organization, LLUH is a faith-based health system with a mission "to continue the teaching and healing ministry of Jesus Christ."