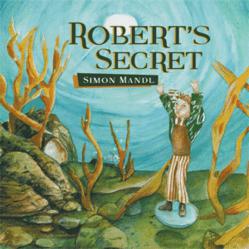 Belmont-Sur-Lausanne, Switzerland (PRWEB) January 26, 2013
It is always a pleasure to find a remarkable tale or fable that shines with an extraordinary spirit. This one, Robert's Secret by Simon Mandl, will make readers say, "This could have happened to me." Such is Simon Mandl's Robert's Secret, a picture book about a boy's finding and helping a family of elves.
The story starts when an adventurous lad named Robert decides to walk across a frozen lake. He falls through the ice and sinks to the bottom where he meets an elf with magical powers. Distraught and desperate, the elf tells Robert the problem of his two sons being held hostage in a house by the lake.
Eager to help others, he offers to rescue the young elves. Robert discovers that the only way into the house is by going down the chimney. He climbs up a tree, drops on to the roof, and enters the house by descending the chimney. One of the elf's children is trapped in a bottle and the other is imprisoned in a cage and cannot get out because a rat is guarding it. The rat cannot run away because it has a cord around its neck which is attached to the table. With luck and a bit of ingenuity, Robert is able to free them from their respective cells and they seek to find a way out of the house before their evil captor returns.
The elves have been taught some magic by their father, and they are able to use this on a key that Robert finds in his pocket to unlock the front door. They are reunited with their father, who promised to give Robert a present for having saved his children. Thoughtfully, Robert prepares for problems in the future by giving them the key to his garden shed in case they should ever need refuge above ground. Thus imaginative Robert lives a dream common to childhood, proving himself of a kind and friendly nature, and amply rewarded for his efforts. Robert's Secret evokes a talismanic, magical time, and it is sure to leave its readers wanting more from author Simon Mandl.
For more information on this book, interested parties may log on to http://www.XlibrisPublishing.co.uk.
About the Author
Simon Mandl was born in England in 1963. He studied in a private junior school in the UK, then for two years in Boston, USA, followed by boarding school and Agricultural University back in England. Following a year's work on a farm, he moved to Switzerland, working for a winegrower. From 1983 to date, Simon has been employed by the International Olympic Committee. Following a terrible car accident in 1987, Simon's outlook and way of living has changed dramatically. In his free time, he takes care of handicapped people.
Robert's Secret * by Simon Mandl
Publication Date: November 19, 2012
Picture Book Softcover; UK£15.99; 38 pages; 978-1-4771-3501-3
Picture Book Hardcover; UK£25.99; 38 pages; 978-1-4771-3502-0
eBook; UK£3.99; 978-1-4771-3503-7
To request a complimentary paperback review copy, contact the publisher at +0800-644-6988. To purchase copies of the book for resale, please fax Xlibris at 44-203-006-8880 or call +0800-644-6988.
Xlibris books can be purchased at Xlibris bookstore. For more information, contact Xlibris at +0800-644-6988 or on the web at http://www.XlibrisPublishing.co.uk.