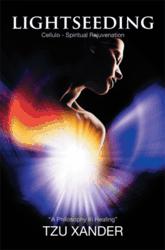 AUSTRALIA (PRWEB) December 16, 2012 (PRWEB) January 26, 2013
Are there new ways to explore and understand what health is all about and what it means to be healthy in this day and age? Author Tzu Xander believes that healing begins and ends with Divine Will. It makes no difference what religion, philosophy, spirituality, you practice all healing is spiritual and starts energetically in the quantum realms of God before any physical healing can take place.
The Lightseeding Method, Cellulo-Spiritual Rejuvenation written by Tzu Xander is a book about a non-medical, spiritually based philosophy and practice. At the core of it, is a simple but powerful philosophy in healing. It takes a look at how the entire cellular body is the divine intelligent medium between the health of the physical self and the source that creates our original blueprint. Historically, some refer to the source as the complete intelligent substance of the universe as within the Hermetic teachings, while others refer to it as God. But this is where all healing and life begins. The Energy we are born from is the very same that heals us.
Tzu Xander is a former world-class professional athlete, whose career prematurely ended after he suffered an accident that inevitably required three excruciating back surgeries and eventual hardware in his spine along with 1000s hours of rehab. Through his own focused recovery, education by many leaders in their field, self-discovery, and gathering of his own insights and now personal teachings, he works to create cutting-edge, sustainable, new earth health sanctuaries and spiritual centres. At the heart of these centers is the opportunity for treating and teaching natural prevention and control of disease techniques such as his trademarked Sacramental spiritual practice of Lightseeding.
The Lightseeding Method will illustrate to readers how in these trying times, health equals real wealth and what everyone needs has always been within. It will help to discover the true 'essence and the enormous power towards realization of self-orchestrated optimum health. It will also help readers to reawaken and unite the connection between their body, mind and spiritual selves. Once reconnection is made to the source of that radiant light, sound and vibration that we are born of, we can restore the natural and innate healing mechanisms we are all gifted with.
Furthermore, Holistic and spiritual health practitioners from all walks of life can safely adopt the method in this book as an adjunctive, or stand alone form of prevention and control of disease as a overall health enhancement guide. It is Xander's personal gift to the world for those open and ready to learn, accept, receive and share this method of healing and through the true Light workers of the world, birth a new insight and understanding of ourselves and what health really looks like.
For more information on this book, interested parties can log on to http://www.Xlibris.com.au.
About the Author
TZU XANDER earned his education over a lifetime of learning, practicing and teaching, culminating in licensing as a Monastic/Pastoral Doctor of Natural Medicine. The Creator or LIGHTSEEDING® Cellulo-Spiritual Rejuvenation 'A Philosophy in Healing' as a Sacramental practice with the PODR Gnostic Church and was developed over a 15 year period will be ready for release, training and certifying of interested Spiritual and general health practitioners alike in 2013. He is a neuromuscular re-education therapist, licensed professional health counselor, author and artist who founded two non-profit organizations in the fields of prevention and control of diseases. As the founding minister of "Path of Divine Restoration" he received the honor of being nominated by his peers and knighted into the US chapter of the ancient Order of the Sovereign Medical Order of Knights Hospitallers and is a licensed Pastoral Doctor of Natural Medicine through the Pastoral Medical Association http://www.pmai.us . One of his strong motivations are to educate and protect the co-creative art form of natural wellness and spiritual health protocols that have been greatly forgotten and are under threat of being lost.
LIGHTSEEDING - A Philosophy in Healing * by TZU XANDER
Cellulo - Spiritual Rejuvenation
Publication Date: November 13, 2012
Trade Paperback; AU$29.99; 213 pages; 978-1-4797-3465-8
Trade Hardback; AU$49.99; 213 pages; 978-1-4797-3466-5
Ebook; AU$3.99; 978-1-4797-3467-2
Members of the media who wish to review this book may request a complimentary paperback copy by contacting the publisher at 1-800-618-969. To purchase copies of the book for resale, please fax Xlibris at (02) 8282-5055 or call 1-800-618-969.
Xlibris books can be purchased at Xlibris bookstore. For more information, contact Xlibris at 1-800-618-969 or on the web at http://www.Xlibris.com.au.