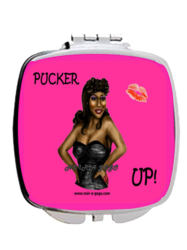 Compacts, like Pinups, are synonymous with beauty.
BROOKLYN, NY (PRWEB) January 26, 2013
Noir A-Go Go, an online store offering Black pinup girl-themed gifts and accessories has launched their first set of compact mirrors. The first, "Pucker Up" in hot pink and featuring the company's main pinup girl Charlie and the second "Showtime" which showcases the charms of Charlie as she channels her inner Josephine Baker in bright yellow, are hot off the presses and ready for love.
The perfect size for an evening clutch or makeup bag the 2 inch by 3 inch silvery metal compact is double-sided and double the fun.
"The compact mirror is a staple of every woman's beauty armor as she heads out for the day. It's almost synonymous with beauty as is the pinup girl. It's kind of a no brainer to create one for Noir A-Go Go," says owner and designer K.C. Washington.
A no-brainer is also what one could call Noir A-Go Go as well, as the online store may be the only Black Pinup Girl gift and accessory company in the world. In its second year, yet still a new company with old-world charm, Noir A-Go Go asks the intriguing question: What would Bettie Page look like if she had been born uptown? Or Donna Reed if she could swing?
"The American pinup girl genre, beginning with WWII sweetheart Betty Grable and continuing on down the line to the infamous Bettie Page, is a revered piece of American nostalgia," say Owner/Designer K.C. Washington. "From the 1940s until the present, girls from California to New York don pencil skirts, tight polka dot sweaters, fishnet stockings, stacked heels, and "victory roll" their hair, in order to achieve "the look." And although companies as diverse as clothing, house wares, and novelty gifts, have capitalized on the desire of women to be sexy and sweet, one rarely sees a black one."
Noir A-Go Go is determined to change that. Employing original artwork to showcase Black pinups in classic poses with sayings like "Trust Me Sugar, I've Overcome!", "Fear Is So 1950s", and "Hot Chocolate Served Daily" on everything from their compact mirrors to magnets, the company explores the virtually unknown, certainly unexplored, world of the glamorous Black woman circa 1950.
Profiled in Madame Noire Magazine, a hit with the Harlem Book Fair, the Brooklyn Book Fair, the 6th Annual NYC Black Doll Show, the Afro Punk Festival, the Atlantic Antic, and gift stores around NYC, Noir A-Go Go puts a sepia spin on a beloved genre.
About Owner and Designer K.C. Washington
K.C. launched Noir A-Go Go in January 2011, with the idea that something was missing within the American pinup girl genre, namely women of color. So she decided to put what she calls a sepia spin on the beloved genre and Noir A-Go Go was born. Convinced that the world is more than familiar with the image of African Americans fighting for their rights during the Civil Rights era, she wants to show another image from that time---one of glamour and wit. A Mellon Fellow and a novelist with a background in journalism and literary and historical fiction, K.C. has raised the curtain on a world of beautiful, empowered, stylish women (and a few men) and placed them on everything from magnets and tee shirts to tote bags and greeting cards, with more to come as she expands.