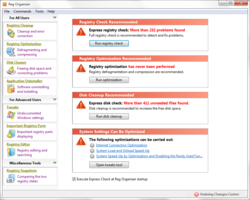 (PRWEB) January 30, 2013
Chemtable Software has released the final version of the Reg Organizer 6.0 utility – an all-round system registry manager for Windows XP/Vista/7/8 that offers an efficient and all-inclusive registry service solution. The program includes tools for extended registry editing, system fine tuning, registry cleaning and optimization, making and comparison of registry snapshots, and more.
In the new version of Reg Organizer, the registry editor has a quick launch ability. In order to run Reg Organizer in the registry editing mode, a user can open the Start menu, execute the Run command, type "rrr" in the dialog, and then press Enter. The combination can be changed, if required.
The "Tweaks" tool has been completely reworked. Not only does the revamped version of the tool allow modifying various operating system parameters, it also allows creating and grouping them. Parameter groups can be managed in one click, so adjusting the system for one's particular tastes is now even easier and more convenient.
The Reg Organizer tool works with the system registry, a key element of the operating system, so an unadvised or mistaken step can lead to unfortunate consequences. In order to minimize chances of such failures and to increase overall safety while using the program, the backup tool has been reworked too. Now it is called the "Undoing Changes Center". It is located in the bottom right corner of every crucial program's function. Whenever any undesirable action is taken, a user can undo it with one click by opening the "Undoing Changes Center".
The last version of Reg Organizer 6.0 can be downloaded from the official website by the following link:

About Chemtable Software
Chemtable Software was founded in 1999. Since creation, the company actively develops various software products for Windows. Among the most popular products developed by the company is Reg Organizer – software for complex registry administration.