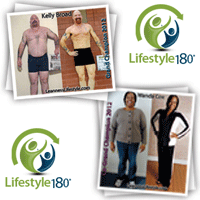 Permanent weight loss demands evidence-based lifestyle-education, which is exactly what Lifestyle180 provides.
Springfield, IL (PRWEB) January 29, 2013
As many health-based New Year's resolutions start to wane and diets start to crash, Lifestyle180 offers an alternative to the quick-fix, short-term weight-loss programs with an effective evidence-based lifestyle education for permanent weight loss in an annual program launching Feb. 6.
Anyone who wants to lose weight and fat and increase confidence and success can sign up for the 20-week online and phone program at Lifestyle180 through Feb. 5. As an added incentive, a total of $18,000 in cash prizes will be awarded to top students.
Lifestyle180, now in its 13th year, has helped nearly 4,000 people lose more than 120,000 pounds by providing evidence-based education, support, accountability and motivation.
"Exercise is an important component of any healthy lifestyle," said David Greenwalt, Certified Wellness Coach and founder of Leanness Lifestyle University. "A great deal of what we focus on with Lifestyle180 though is on the 23 hours a day when people aren't exercising."
Even though 45 million Americans diet each year, 80 to 95 percent of people trying to lose weight and keep it off fail; Lifestyle180 is designed to counteract this trend with a strong focus on permanent weight control rather than dieting-based weight loss.
"As many healthy diet and exercise plans start to fade a month into the new year, Lifestyle180 is designed to move beyond the short-term thinking of diets," said Greenwalt. "Permanent weight loss should be the goal of every diet and weight-loss program, but the reality is most pills, powders, potions and programs fall short. Stand on top of the tallest building in your city and scream 'eat less and exercise more!' and you'll help exactly zero people lose weight and keep it off. That's because weight loss is far more complex than an oversimplified cliche. Permanent weight loss demands evidence-based lifestyle-education, which is exactly what Lifestyle180 provides."
Lifestyle180 is limited to 180 students and requires no travel or in-person meetings. The unique program consists of:

Online and phone education on permanent weight loss, including a weekly Wednesday night meeting;
Tips and tools for anyone interested in losing between 10 and 70 pounds in 20 weeks;
Progress and performance monitoring;
Group and individual assignments;
The real secrets of keeping weight off for good;
And the opportunity to win part of the $18,000 cash prizes.
"The way you consistently think and feel about yourself, others and the world determines your nutritional behaviors, and what happens in the 23 hours a day you aren't working out accounts for 80 percent of weight-loss success," added Greenwalt. "Lifestyle180 is for anyone with a burning desire to lose weight and a coachable spirit. We can truly help you change your weight and your life for good."
About Lifestyle180
A practical course from Leanness Lifestyle University, Lifestyle180 was developed by David Greenwalt, author of the popular "The Leanness Lifestyle" book as well as a strength and conditioning coach and certified wellness coach. His coaching and fitness software programs have been successfully used by hospitals, police departments, fire departments, medical clinics, educational institutions and individuals from more than 20 countries. For more information or to sign up for the 2013 Lifestyle180 program, please visit http://www.Lifestyle180.com