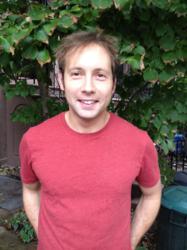 So I decided instead to do what I wanted to do, which was write a love story—a love story narrated by someone who is pointedly not an intellectual.
(PRWEB) January 30, 2013
Writer Benjamin Nugent knows something about working against the grain. The Director of Creative Writing at Southern New Hampshire University—and also a faculty member in that school's low-residency MFA in Fiction & Nonfiction program—became the voice of a certain generation with the success of "American Nerd: The Story of My People" (Scribner, 2008).
In that mix of memoir, history, and cultural analysis, Nugent rebelled against the negative stereotypes attached to nerdiness, and in so doing played no small part in making that cast of mind, well, pretty cool nowadays.
Now he's about to publish an eagerly anticipated debut novel that also rubs against the grain—at least as that's been defined by a number of other young novelists. Nugent tried, however, to go with the flow.
"I was in my second year at the Iowa Writers' Workshop," Nugent said, "and I was working on a novel that was as dark and drafty as the Victorian I was living in. It was very intellectual and serious, very autobiographical, a novel of big ideas with overlapping story lines and long essayistic passages—just like what everybody else is doing."
But Nugent wasn't having fun with it. "So I decided instead to do what I wanted to do," he said, "which was write a love story—a love story narrated by someone who is pointedly not an intellectual."
That novel is "Good Kids," appearing from Scribner on January 29th. Like many other love stories, it hinges on questions of fidelity, but this one works from a different sort of perspective on that. Its narrator Josh, and his love interest Khadijah, witness as teenagers a tryst between Josh's father and Khadijah's mother. The two good kids swear a pact never to be unfaithful to their partners.
Divorces ensue, the families break up, and Josh and Khadijah lose track of each other. Thirteen years later fate brings them together again at a point at which each is engaged to another. So about that pact . . .
Nugent is a graduate of Reed College and that famed Iowa writing program. He has published short stories in Tin House and The L Magazine, and his essays and journalism have appeared in The Atlantic, the New York Times Magazine, the New York Times Op/Ed page, Glamour, and many other publications.
He describes "Good Kids" as "a literary romantic comedy," and the advance reviews have praised not only the author's narrative chops, but also—dare we say it?—the novel's intellectual depth. "Nugent's characters' lives are closely observed and psychologically astute," wrote Booklist, and Oprah Winfrey's O Magazine tabbed "Good Kids" one of its ten "must-reads" for January.
"Fascinating modern families and believable characters emerge from Nugent's brisk, lively prose," added the City Paper of Philadelphia. The novel "integrates larger musings about white guilt, modern music and TV, parenting, nature vs. nurture, and loyalty in an unpretentious, undidactic way that invites genuine empathy."
Nugent himself offers another way to look at the premise for the story, one staked to the process of coming-of-age as a child of misbehaving adults. "How do you rebel," he said, "when your own parents were rebels?"
Of course this is a novel whose author rebels against the instruction manual for writing the "serious" young-writer fictional opus, crafting instead a story that is unpretentious, warm-blooded, and funny.
It looks like a whole generation of readers are going to be glad he moved out of that Victorian.